Swim and dive teams take conference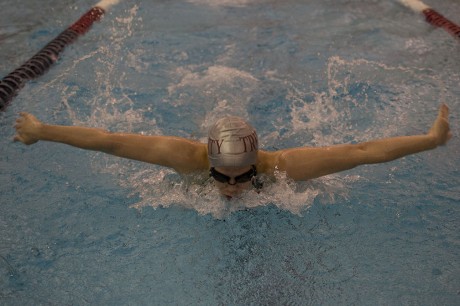 The Trinity swim and dive teams trounced Colorado College last weekend to become the 2013 SCAC champions.
"It's just been an outstanding year and to see it all come together here is just wonderful. "We're all quite satisfied," said head dive coach Stan Randall.
The men's swim team scored 1,039.5 points to win the title for the second year in a row. First-year Andrew Thiesse won the 1,650-meter freestyle, while sophomore Stephen Culberson won the 100 free, and first-year Nikita Chirkov won the 200 breaststroke, breaking the All-Conference record set by Trinity in 2011. First-year Brandon Tunon finished second in the 200 butterfly, followed by senior Spencer Bard in third and junior Lucas Belury in fifth.
"Honestly, we pretty much raced each other, so it was weird, but everyone handled it really well and there were no hard feelings," said junior Melanie Gustafson.
The women scored 1,161.5 points to win for the 10m year in a row. Gustafson came in first in the 1,650 freestyle, followed by sophomore Sarah Miller in second place. In the 100 freestyle, Trinity took four of the six spots, while senior Ana Price broke the previous school record set in 2008. First year Kara Beauchamp won the 200 breaststroke, breaking the school record by almost five seconds and earning All-SCAC honors, while junior Meghan Varner finished third in the 200 butterfly, also earning All-SCAC honors.
"Our coach actually jumped in the pool with us, which was exciting," Gustafson said. "It was a big deal; ten years is a lot."
The women's 400 free relay team, comprised of first year Leah Selznick, senior Jennifer Ince, sophomore Lydia Jones and Price, came in first, earning a provisional time for nationals and breaking both Trinity and SCAC records.
"It was a great success, we had a lot of school records broken and a lot of people got provisional "˜B' cuts for nationals, which means that they have a chance to go to the NCAA DIII National Championships in March," Gustafson said.
The women's dive team dominated the one-meter competition, securing five of the top six spots. Two-time All-American senior Ruth Hahn won the event, shattering the record set by Trinity's Hayley Emerick. First year Ashley Heline came in second and junior Katie Sheldon came in third.
"Most people had some of their best dives," Hahn said. "People were really consistent and placed well."
Hahn once again won the three-meter event, breaking the previous record held by Emerick. Heline came in second in the event, while Trinity took six of the top eight spots.
"I've never won both boards in the same conference meet, so that was exciting," Hahn said. "It's my senior year, so to break records was a great way to finish my last conference."
First year Stuart Sproul finished second in the men's one-meter event, followed by sophomore Galve Deleste in fifth place, first year Philip Whalen in seventh and first year Calvin New in eighth. Sproul also finished second on the three-meter board, earning two All-SCAC honors.
"The diving was just outstanding all week," Randall said. "The meet went absolutely perfectly."
School records broken during conference:
100-meter breaststroke: sophomore Kelly Holton
100-meter butterfly: senior Mary Price
200 IM: first year Kara Beauchamp
1-meter diving: senior Ruth Hahn
200 medley relay: seniors Jennifer Ince,Mary Price and sophomores Kelly Holton, Lydia Jones
200-meter freestyle relay: seniors Jennifer Ince, Mary Price, Ana Price and sophomore Christine Hoelterhoff
800-meter freestyle relay: senior Ana Price, sophomores Christine Hoelterhoff, Lydia Jones and first year Leah Selznick
100-meter freestyle: senior Ana Price
500-meter freestyle: junior Melanie Gustafson
200-meter breaststroke: first year Kara Beauchamp
400 IM: first year Kara Beauchamp
400-meter medley relay: seniors Mary Price, Ana Price and sophomores Lydia Jones, Kelly Holton
200-meter medley relay: senior Spencer Bard, sophomores Stephen Culberson, Adam Thomas and first year Thomas Jones
200-meter breaststroke: first year Nickita Chirkov
Leave a Comment