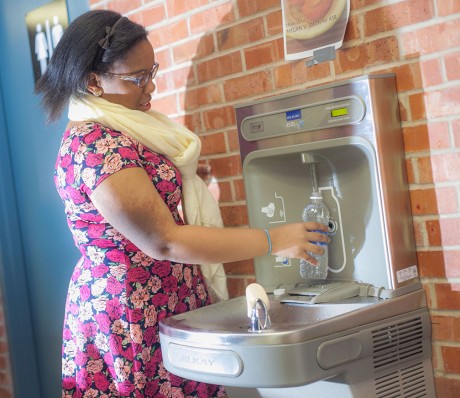 Ten new water fountains and several new water bottle dispensers are being or have been installed on campus thanks to funds allocated last spring by the campus administration and Association of Student Representatives, according to Sharon Curry, coordinator for sustainability in the university's Office for Campus Planning and Sustainability.
According to Curry, water bottle filling stations have been installed in several locations in both academic buildings and residence halls, including the Prassel, Thomas, and Lightner residence halls as well as in the Chapman Center and Northrup Hall. All 18 of these stations are the result of cooperation between the various student organizations, including ASR and Students Organized for Sustainability.
"I do not recall the idea [for the new installations] having a single point of origin, but rather many voices over several years advocated for the installation of filling stations for a variety of reasons," said Curry in an email correspondence.
According to Joe Moore, ASR president, the idea of the water fountains was originally discussed in ASR last year.
"The water fountains were discussed before I became president. It was a topic of discussion when I was a senator, if I recall. The previous president, Logan Walsh, really pushed for it. He thought it was a good idea, and he took it to the administration," Moore said. "They said that if he went halfway [in terms of funding] that they would go halfway as well."
According to Curry, the funding for the stations was split evenly between the administration and ASR. Both contributed $15,000 in funds towards the new fountains and water fillers. Campus personnel started work on these new installations only recently, and work has not yet finished.
Curry also noted that even as this round of upgrades is nearing completion, campus officials have already made plans for the next series of fountains.
"The Witt and Winn Residence Halls renovation project and phase 3 construction of the Center for the Sciences and Innovation both have bottle fillers included within the scope of these projects," Curry said.
According to Moore, the new water fountains fall in line with the campus' push towards sustainability, replacing disposable plastic water bottles.
"The idea was that we would slowly filter out the student use of water bottles. We want people to not have to constantly have to buy those plastic water bottles everyday," Moore said.
"We wanted to encourage sustainability as well as have an easy way to access that water. It's better than fiddling around with normal water fountains."