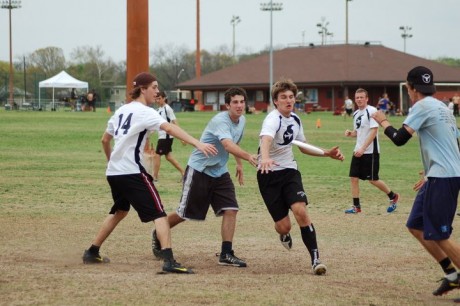 Trinity's very own ultimate frisbee team, the TUrbulence, is taking off and flying high after winning their first tournament of the season, the Heart of Texas Huck Fest in Waco.
"To be the best team there represents a huge accomplishment for the program, all the work we've done and our emergence as a team which might be getting national respect soon, which is something I'm very proud of," said senior co-captain Connor Stevenson.
During the weekend of March 23-24, the team beat out 20 other teams, including Tulsa University, Texas Christian University, and John Brown University the latter which beat them earlier in the season.
"In our previous tournament a few weeks earlier at Hendrix University we lost to Oklahoma State in the semifinals after going 6-0 and knew going into Waco that this would be our tournament to lose, so we went out and played hard and pulled it out," said senior co-captain Brooks Lyford.
Although currently ranked 10th in the nation, Trinity's ultimate team worked tirelessly to get there. The rapid improvement came about in great part due to a core group of seniors, including Stevenson, Lyford, Spencer Nelson, Ben Scheiner and Josh Vanderslice. At the start of their junior year, there were only 13 players, and now the program is up to around 50 players.
"We're a skilled team, we're nationally competitive, and we're going week in and week out to tournaments and representing Trinity and San Antonio," Stevenson said.
The team is still working hard to get to the top. Last Thursday, the ultimate team played a showcase game against San Antonio's club ultimate team, the Rage, who placed fourth in Texas last year, which is a huge feat considering that Texas is home to both the national champions and the biggest ultimate club in the world from Houston.
"We're hoping to prove ourselves as an elite college team," Scheiner said. "We're hoping to show the campus that ultimate's exciting, it's a real sport, and for people looking for an outlet for athleticism, ultimate provides a tight-knit group of friends that you can join and be a part of."
TUrbulence is currently setting their sights on the road to regionals and, eventually, nationals. Regionals will take place on the weekend of April 20 in Tulsa, Okla. and consists of teams from Colorado, Texas, Oklahoma, Arkansas and Mississippi. Trinity's biggest competition will be Harding University, as well as Rice University, John Brown and Truman State.
"A big part of why they're tough is because Trinity's program is relatively new," Scheiner said. "Four years ago, the program was basically in its first serious year and the programs that we're competing against have been around for decades."
If Trinity places well at regionals, they get a bid to nationals in Wisconsin, the weekend of May 17. Only the top 16 teams from the nation make it to nationals.
"We're working hard, we're having three practices a week," Stevenson said. "People are going out to throw every day to hone their skills. We have people watching film of both ourselves and top programs to become better athletes and ultimate players."