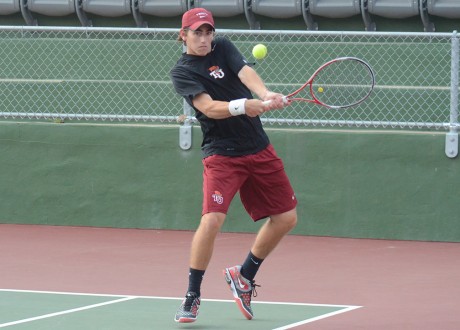 The men's tennis team defeated Division II St. Mary's University and Kalamazoo College last Friday, boosting to a 11-8 record on the season.
"Overall, the team continues to improve and we're showing a lot of promise for the future," said sophomore Jordan Mayer in an email.
In the first game, the Tigers beat Kalamazoo 9-0. In doubles play, senior Erick De la Fuente and Mayer won in the No. 1 position, junior Nicolas Moreno and sophomore Charlie Curtis won in the No. 2 spot, and junior Greg Haugen and first year Connor Dunn won in the third position.
"We'd seen them compete a couple of times, so we were ready to play and it all went great," said head coach Russell McMindes. "We had to sit our number one player so everyone slid up a spot and showed they were ready to go."
Moreno won in the first position in singles play, followed by Haugen, De la Fuente, Mayer, Curtis, and sophomore Pablo Diaz Boom.
After the first match, the Tigers traveled to St. Mary's, where they dominated 6-3 and extended their win streak to five games.
"I think we definitely demonstrated our depth especially in our afternoon match," De la Fuente said in an email. "I'd say we're still moving towards our peak, but things are looking good overall."
Trinity swept the doubles competition, with wins coming from De la Fuente and Mayer in the first position, Moreno and sophomore Aaron Skinner in the second position, and Haugen and Dunn in the third position.
"We'd heard a lot about them and we knew they were strong, so we knew we had to be ready," McMindes said.
In singles play, De la Fuente won in the No. 3 spot, followed by Curtis in the No. 5 position and Diaz Boom in the sixth position.
"We continue to stay together as a team, both with on-court performances and off-court support, which is going to make us a real threat later in the season," Mayer said.
Trinity returns home next Saturday, April 6, to take on the University of the Incarnate Word in the morning and Texas Lutheran University in the afternoon in their final regular season home matches.
"The UIW match is always a battle so it will be fun to see how we match up with those boys this time around," De la Fuente said. "We obviously expect to beat TLU easily and UIW, although they'll be tough, we expect to beat them as well."