Softball dominates early conference play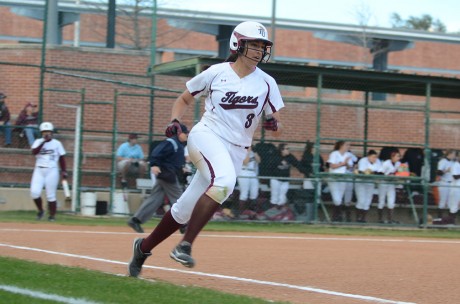 The softball team kicked off SCAC play two weeks ago with a bang, sweeping the University of Dallas 4-0.
"Our pre-conference competition was tough," said sophomore catcher Brittany Haby. "We really learned from each game, and it shows because we are going into each of our conference games knowing that we have what it takes to win."
Trinity won the first game 11-0, led by junior shortstop Brooke Sanchez and junior second baseman Chrissy Armstrong, both of whom were 3-4. Senior pitcher Sydney Friday led on the mound, striking out nine hitters.
The Tigers dominated 17-0 in the second game. Senior first baseman Megan Russell and senior outfielder Lindsay Weyand were 2-3, while Sanchez went 3-4 and senior third baseman Nicole Powers went 2-4. First-year pitcher Kaci Wellik struck out ten batters, while going 3-3 at the plate.
"We really hit the ball really well that weekend, our stats are unbelievable," said head coach Brandi Crnkovic.
Trinity also beat Dallas handily on Saturday, winning the first game 16-3 and the second game 13-1. First-year outfielder Emily Fleischman went 3-3, senior outfielder Becca Rush was 3-3, and Wellik went 2-3. In the second game, Armstrong led Trinity going 3-4, while Sanchez recorded two hits and scored four runs.
"I think we have great chemistry as a team," Haby said. "I can always count on a fellow teammate to perform her best in any given situation, and to have that kind of trust is priceless."
Next Wednesday, Trinity earned two more wins against Midland University. The Tigers won the first game 4-3, led by Friday, who struck out five hitters. Trinity won the second game 8-2, led by Rush, who went 3-4, and Weyand, who had two hits and two RBI.
"They're a pretty solid team, so we executed well and took advantage of the mistakes that they made and that's what won us both of those games," Crnkovic said.
Trinity resumed conference play last weekend, going 3-0 against Austin College.
On Friday, the Tigers beat Austin 4-0. Russell was 3-4 and Rush went 2-4, while Friday struck out nine batters. Trinity won the second game 3-0, led by Sanchez and sophomore outfielder Lauren Mercado, both of whom had two hits, and Friday, who struck out six hitters.
Trinity extended their winning streak into Saturday, defeating Austin 7-1. Sanchez went 5-5 and scored four runs, tying multiple school records. Russell was also 4-4, while Mercado went 2-3 with two RBI.
"The teams we played never gave up, even when we jumped on an early lead, so we really had to work on scoring every inning and keeping the momentum," Russell said.
For their performances, Friday was named SCAC Pitcher of the Week, while Sanchez was named Hitter of the Week.
The Tigers return home next Tuesday to play the University of Mary Hardin-Baylor, starting at 5 p.m.
"Mary Hardin Baylor and Southwestern are going to be competition for sure, and we're ready for the challenge," Russell said. "Our Conference Tournament is around the corner, and we won't be satisfied with anything but a SCAC Championship."
Leave a Comment