Two employees hired to fill vacant positions in CCI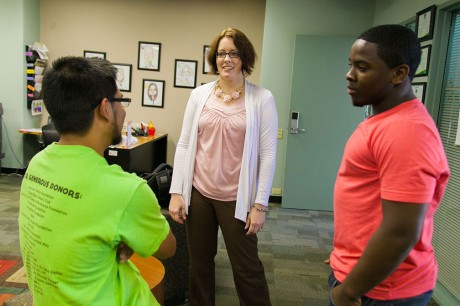 Campus and Community Involvement has hired two new employees. Kate Polivka was hired as the assistant director of campus and community involvement in January and joined the staff in February. Becka Bovio was hired as the coordinator of student programs in March and will join the staff in May.
Polivka and Bovio were chosen by a search committee that included staff, professors and students.
"Not only were we looking for someone with superior knowledge, skills and abilities that they could bring to the job, but also how well we believed they would fit with CCI and Trinity," said Edwin Blanton, a member of the search committee and coordinator for community service and engagement in CCI.
Bovio is originally from San Antonio and received her undergraduate degree in English from Baylor University. She will receive a masters of science in higher education from Florida State University this May. Polivka graduated from Old Dominion University in Norfolk, Virginia with a bachelors degree in geology and a masters in education. She also worked there as assistant director of student transition and family programs.
"At Trinity, I do orientation but I also do leadership development, and I work with the staff at Coates University center," Polivka said.
Jamie Thompson, director of CCI and chair of the search committee, said that Bovio's responsibilities were re-envisioned and include tasks that have not existed in one position before now.
"I believe there is an opportunity for synergy around all things student programming," Thompson said.
Both candidates' resumes were reviewed many times before Bovio and Polivka were called in for Skype interviews during the first stages of the search process.
"I was looking to go to a university that was smaller, and I had never worked at a private school before. It wasn't until I interviewed at Trinity that I realized how special it was," Polivka said.
According to Thompson and Blanton, the candidates did a great job in the interview process and expressed desirable skills that would fit in well at CCI.
"I want to make NSO the most dynamic program that it can be," Polivka said. "I want to make sure that the students feel prepared to succeed in the classroom."
In discussing Bovio's position,  Thompson anticipated that Bovio will be very successful on campus, and that her energy and attitude will help in assisting students.
"I'm confident that both will bring new ideas and energy to the department," Blanton said.
Leave a Comment