Softball team experiences tough series loss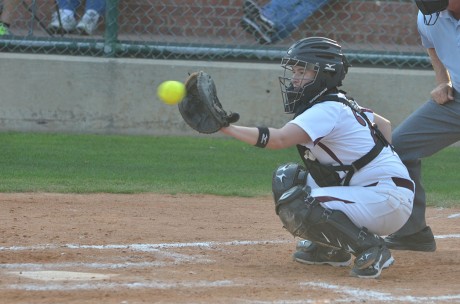 The women's softball team ended their nine-game winning streak last Tuesday night after losing two games to the University of Mary Hardin-Baylor.
"We did not play how we know we can play," said sophomore catcher Brittany Haby in an email. "In both games, they got ahead early and we didn't rally back like we usually do."
The Tigers lost the first game 2-0, despite a stellar outing by senior pitcher Sydney Friday. Friday struck out 11 hitters and allowed only one earned run on three hits. The game remained scoreless until the sixth inning, when Mary Hardin-Baylor scored both of their runs.
"Overall, Friday pitched really well, but offensively, we did not get the job done and could never push a run across," said head coach Brandi Crnkovic.
Junior shortstop Brooke Sanchez, sophomore catcher Brittany Haby and senior outfielder Becca Rush recorded the only hits for the Tigers.
"We didn't string our hits together like we needed to, and Mary Hardin Baylor did," said junior second baseman Chrissy Armstrong in an email.
Trinity lost the second game 11-2. Although senior outfielder Lindsay Weyand hit a triple in the bottom of the fourth inning to score two runs, Mary Hardin-Baylor responded with six runs in the fifth inning to enforce the run rule.
"Their team could execute," Haby said. "When they got runners in scoring position, they scored the majority of the time. Their coach kept telling them to be "˜aggressively disciplined,' and they were. We need to take these games as a learning experience and apply ourselves."
Weyand ended up 1-2, while senior third baseman Nicole Powers went 2-2. Both Powers and first year outfielder Emily Fleischman scored for the Tigers.
"We had a lot of errors which ultimately cost us the game," Crnkovic said. "We didn't have a good hitting day, and it's hard to score runs when you only get three hits in an entire game."
Trinity remains at home this weekend to take on Centenary College in a six-game series. The first of the four games on Saturday begins at 1 p.m.
"We have two conference doubleheaders this weekend that we're preparing for to make sure it doesn't happen again," Armstrong said.
This weekend the team is also hosting a fundraiser in honor of junior catcher Ana Garcia, who was diagnosed with lymphoma last year. Donations will go in her name to the Leukemia and Lymphoma Society.
Leave a Comment