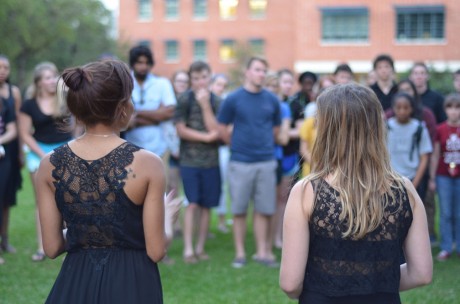 As the bell in Murchison Tower rang and dusk fell on Trinity's campus at 8 p.m. on Tuesday, a group of more than 50 friends, hall mates, university staff and faculty gathered near Miller Fountain to celebrate the life of Dakshina (Sheena) Kaushish, a first year student who died Monday at approximately 6 p.m. after reportedly jumping from a downtown parking garage.
A resident of Winn Hall and an aspiring double major in computer science and chemistry, Kaushish is remembered by friends for her kindness and intelligence. According to Sydney Wright, a first year and friend, Kaushish graduated early from high school and came to Trinity at the age of 17 with 27 credits already under her belt.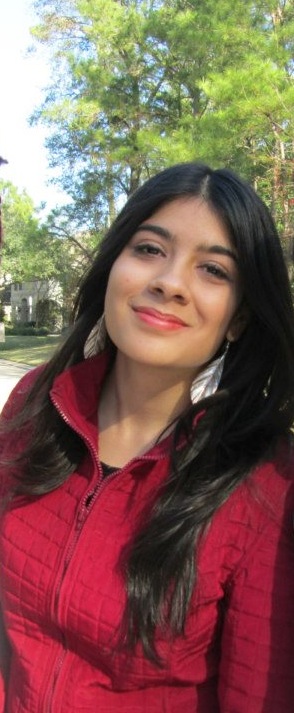 "Learning this about Sheena made me in awe of her since the first day I met her. Sheena was the example of dedication and achievement," said Wright during the student-sponsored gathering.
Kaushish, who was born on July 21, 1995, attended high school in The Woodlands, and is remembered as loving world travel, horseback riding and music.
"I am just forever grateful for all of the experiences I was able to have with Sheena," Wright said. "From shooting hoops on the outdoor court for fun, to getting dinner and having great conversations, to going out on the town … Sheena was always a truly great person to be around, and I really wish the world would have gotten to get to know her and been able to see what she would have done with her life and all of her talents."
Hayley Says, a first year, talked about how excited she and Kaushish were to be sophomores and live in Thomas Hall together next year. At the memorial, Says read a poem in honor of Kaushish at the gathering.
Following the speeches, there was a moment of silence before Jim Boelens, retired U.S. Army chaplain and alumni sponsor for the Class of 2016, led the group in a prayer.
Attendees were then invited to sign a poster featuring pictures of Kaushish and a well-known Harry Potter quote, "Happiness can be found in the darkest of times if one only remembers to turn on the light." The poster is now being displayed in the Coates University Center.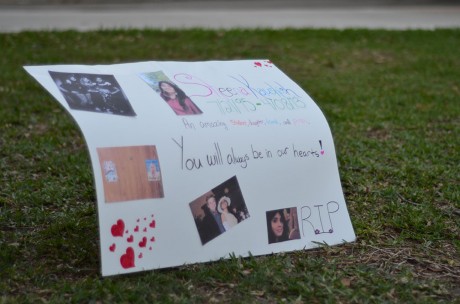 At the end of the evening, Wright gave a brief speech pertaining to suicide awareness and encouraged the community to reach out to those they think may be struggling.
"I really think that Sheena can continue to have a positive presence here, just as she already was before, by becoming the face of suicide awareness and prevention on our campus," Wright said in an email on Wednesday. "It is so important to reach out for help when you need it."
David Tuttle, associate vice president of student affairs and dean of students, also encouraged individuals to reach out to the community.
"We don't know what the catalyst was, we don't know if or what in particular set things in motion and I don't know if we ever will know," Tuttle said. "But in regards to what happened with Sheena, we would encourage people to talk to the support on campus. This is devastating for our campus, and people need to know that, and if our students are ever struggling, we just hope that they will reach out and seek help because it's a very warm community, and people would drop anything to help other people here."
A funeral service will be held today in Houston at the Garden Oak Funeral Home. According to an email sent by Tuttle Thursday afternoon, a viewing for friends and other visitors will take place from 10:30-11:30 a.m., and a cremation will follow immediately afterwards in accordance with Hindu rites.
Currently there is no information available regarding donations, flowers or condolences, but Tuttle said that an on-campus service is set to take place early next week and will coincide with a visit from Sheena's family.
"[Sheena's parents] very much want to hear from students about their daughter's impact and what she was like here as a college student," Tuttle said. "Knowing that their daughter mattered to people here, and having that connection to current students and faculty, is pretty important to them."