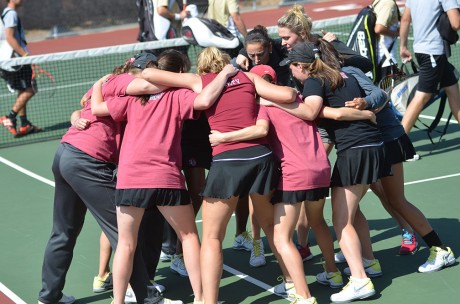 The women's tennis team finished up their last regular- season home matches last Saturday by losing to the University of Incarnate Word, but defeating Texas Lutheran University.
"We did really well. We went out and competed and did the best we could," said first year Caroline White. "All the girls played really well and there were a lot of positives in the matches."
The women lost their first game 7-2 to Division II Incarnate Word. In doubles play, White and junior Kathleen Lundquist clinched the only victory in the No. 2 position. First year Kristy Hamilton was the only Tiger to win in singles play in the fifth position.
"It was one of those matches we could use to work on a few things to get better for our TLU matches and the rest of the regional matches we have," said head coach Jacob McMindes.
Later that afternoon, the Tigers beat Texas Lutheran University 8-1. Trinity swept the doubles competition, with wins coming from senior Thavindra Ekanayake and junior Kylie Hornbeck in the No. 1 position, White and Lundquist in the second position, and junior Stephanie Williamson and first year Gabrielle Roe in the third position.
"We're starting to see a lot more chemistry with the doubles teams," McMindes said. "They're starting to work more as a unit."
In singles play, Hornbeck won in the No. 2 spot, followed by Roe, Hamilton, Michelle Gun-Munro and Laura Roa.
"They went out there, played really well and got the job done," White said. "We got the win, so that was exciting for us."
The women will finish up their regular season next weekend, with a match against University of Texas-Dallas on Friday afternoon, and matches against the University of Texas-Tyler and Collin County Community College on Sunday.
"We believe we can end this weekend with some wins," said junior Lavinia Bendandi in an email. "We just need to keep playing our intense and competitive game and it should be a fun, useful and successful weekend."