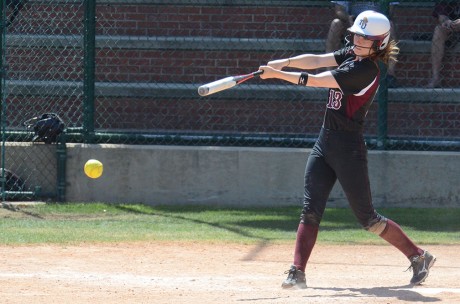 Still undefeated in conference play, the women's softball team improved its conference record to 11-0 after defeating Centenary College in four games last weekend.
"We played really well," said head coach Brandi Crnkovic. "It was our senior weekend and I think that provided the girls with a lot of excitement with wanting to honor our seniors."
The women started the series on Saturday, beating Centenary 7-0 in the first game. Senior pitcher Sydney Friday led on the mound, allowing only one hit and striking out five. Junior shortstop  Brooke Sanchez broke the school record for most stolen bases in a season, going 1-2 with two runs scored and two stolen bases, while senior outfielder Becca Rush went 2-3.
"We made the routine and excellent defensive plays to shut out Centenary in all four games," said junior third baseman Kayleigh Kinlaw.
Later that afternoon, the Tigers won the second game 2-0. Sanchez went 1-2 with one run scored, and senior first baseman Megan Russell went 2-3 with one runs batted in. Sophomore Lauren Mercado pitched for Trinity, striking out three batters and allowing only three hits.
"Pitching and defense was incredible," Russell said. "Our offense was stellar at moments and lackluster at others, but our defense carried us through to win ballgames."
Trinity came back on Sunday afternoon to defeat Centenary 8-0 in both games. In the first game, Trinity scored four runs in the bottom of the fifth inning to enforce the eight-run rule, ending the game early.
"We worked as a team with the timing of our sacrifice bunts and base hits to score 25 runs, and we capitalized on Centenary's errors and weaknesses," Kinlaw said.
Third baseman Nicole Powers went 2-2, while sophomore catcher Brittany Haby went 3-3 with three runs scored and junior second baseman Kayleigh Kinlaw went 3-3. Once again, Friday allowed only one hit, while striking out three hitters.
"Overall our entire pitching staff did really well," Crnkovic said. "We had four shutouts, which we haven't done all year, so that was a big deal for us."
First year Kaci Wellik dominated both on the mound and at the plate in the second game, striking out ten hitters and allowing only three hits, while going 1-2 with two runs scored. Rush also went 2-3 with one run scored.
"I think we played phenomenally  this  weekend, especially considering all the injuries our team is currently recovering from," Russell said. "We never let a run score in all four games, and that's something to really be proud of from a defensive point of view. I think it really carried us through the games."
Next weekend, the Tigers head to Georgetown to take on Southwestern University in their final regular season SCAC series.
"Southwestern's second in conference and they've only had one loss, so we're really only one game ahead of them," Crnkovic said. "We expect them to come out with a lot of energy, so we're making sure that we're just as energetic and motivated as they are for the weekend."