After 24 successful seasons, Trinity head football coach Steve Mohr announces his retirement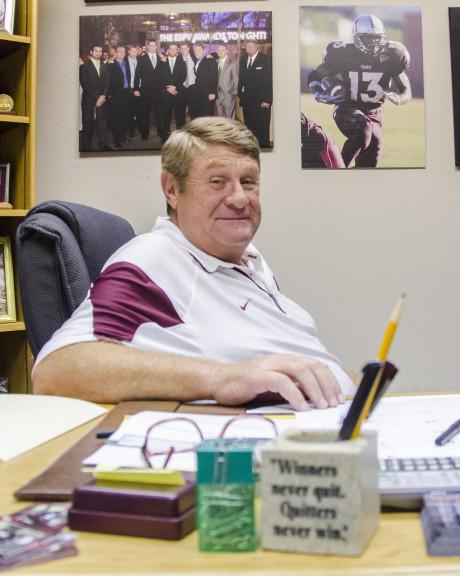 After 24 seasons coaching the Trinity Tigers, Steve Mohr will be stepping down as Trinity head football coach.
Mohr has been described as the most successful coach in program history after establishing new school records in both total wins (186) and winning percentage (.715) during his career. Mohr is third among active NCAA Division III coaches in victories (186), and is also in the top 20 in winning percentage among active coaches in Division III. He led Trinity to 16 SCAC Championships, and took the Tigers to the NCAA Playoffs on 12 different occasions.  Trinity has made three trips to the NCAA Semifinals during his tenure (1998, 1999, 2002).
Despite these incredible accomplishments, Mohr would say that his proudest accomplishment as a coach is not his number of wins, but rather the type of men his football program breeds.
"The fact that we graduate all of the students who play for the team and their accomplishments as alumni is my proudest moment as a coach. As coaches, we built the program to turn young men into adults. We are really proud of our students, because they represent the school in a positive way, for both academics and football," Coach Mohr said.
In 2002, Coach Mohr led Trinity to its only appearance in the Amos Alonzo Stagg Bowl, as the Tigers finished as national runners-up to Mount Union College (Ohio).  He has earned American Football Regional Coach of the Year honors five times in his career, and also earned the National Coach of the Year award in 1998 (American Football Gazette and CBSsportsline.com) and 2002 (Football Gazette).
"I am fortunate to have been surrounded by such a great group of assistant coaches, who have helped lay the foundation for our program with their support and loyalty. I am also thankful to have had a strong administration that has believed in me and players that have bought into my coaching philosophy," Mohr said.
A self-proclaimed "Yankee," Mohr had never even been to Texas when he accepted his first head coaching position with Trinity University. A colleague encouraged him to accept the position since football was such a major aspect of Texan culture.
Mohr has been involved with Division III sports for over 38 years and has never coached at any other collegiate level; a choice he is very happy with.
"Division III athletes don't play for the money or huge crowds; they play for the love of the game. And that is the most gratifying thing as a coach, because we put in a lot of time and effort in order to be successful on the field," Mohr said.
Mohr's choice to retire as head coach was something he had been contemplating for several months.
"For coaches that have been coaching as long as I have, a timer goes off and you realize that it is time for a change. In order for success and tradition to continue within a program, it is necessary for change," Mohr said. "People always say it is disappointing to end their coaching career on the note that our season ended, but I know I will be able to better serve the university with my new position."
Mohr will be assuming the position of Assistant Athletic Director for Football Development. The position is twofold and involves the athletic department reconnecting with alumni who played for the university, but have not had a connection to the school in 10-20 years. The long-term goal of this plan is to one day renovate the Trinity football stadium.
Stepping in for Mohr will be nine-year National Football League veteran and former Tiger All-American Jerheme Urban, who has served the past two seasons as an assistant coach, including this last season as the team's offensive coordinator.
"After coach Mohr made his decision to retire from coaching, I knew it would take a special person to fill those shoes, as it is never easy to replace a legendary coach," said Bob King, director of athletics in a press release.  "Fortunately, upon looking for potential replacements, we found that the best candidate was already at Trinity.  I am flattered that a person as talented and gifted as Jerheme would even consider Trinity as his first head coaching job.  I am excited to work with him, and I'm eager to see what the future holds for both Jerheme's career and for the Trinity football program."
Urban led the 2002 Trinity football team to the Amos Alonzo Stagg Bowl under Mohr, and still holds Tiger records for career touchdowns, career receiving touchdowns, single season touchdown receptions and single season touchdowns overall. Urban earned his bachelor of arts degree in english and history from Trinity in 2003, then signed to the NFL shortly after.  During his nine-year NFL career, Urban played wide receiver for the Seattle Seahawks, Arizona Cardinals and Kansas City Chiefs.
"It is with great honor that I accept the position of head football coach for the Trinity Tigers.  I understand the pride and tradition that comes with wearing the Trinity helmet, and I look forward to the responsibility of leading our young men into a new era of Trinity football," Urban said in a press release.  "Coach Mohr has taught me a lot of football over the past 14 years, and I look forward to building on the foundation that he has put in place.  I cannot put into words how humbled I am to be the one asked to lead a program that has seen such a steady voice over the last 24 years, and I want to thank President Ahlburg and director of athletics Bob King for this opportunity. "
Mohr is highly supportive of the university's decision to promote Urban to head coach, as he believes Urban will be a positive role model for the players.
"When Jerheme came to Trinity, he was a quarterback, and when he broke his wrist, he got switched to a wide receiver. It was one of the best breaks he could have had in his career, no pun intended," Mohr said. "He is one of the all-time greats of Trinity, and he worked for everything he achieved, starting from the bottom and working his way to the top. Not everyone that walks around on campus achieves what he has during his career and it especially doesn't happen very often at the D-III level."
Mohr and Urban will assume their new positions immediately.
Leave a Comment