Lecturer David Gordon weighs research versus teaching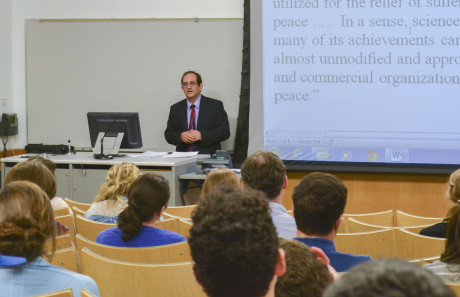 Visiting professor Daniel Gordon of the University of Massachusetts at Amherst, recently gave a lecture regarding the issue of teaching and research and how a professor should approach the issue. Exploring the historical conception of today's tension between the two practices, Gordon analyzed the current standards and how important it is for teachers to find a balance.
Gordon began by explaining how the modern construction of research formed, stating that the division between it and teaching did not form until after World War I.
"Until the late 19th century, there was no tension between research and teaching: research served the purpose of teaching," Gordon said.
The division came later in time, with the practices of teaching and research developing into distinct areas that would later fuel the debate.
"Teaching and research were closely intertwined," Gordon said. "Following World War I, the conceptual meaning of research began to change as something done for the benefit of society, something good that is so powerful that it can be justified against teaching."
This new distinction raised the question that Gordon addressed later in his lecture: should professors be more devoted to teaching or research?  To many professors, including Gordon, this is seen as an issue not only of time management, but as an ethical issue as well.
"We generally see this as an issue in time management. How can we make enough time for teaching and research?" Gordon said. "However, in contrast to the conceptual difference between the two, there is a moral aspect between balancing teaching and research. It is really a competition for our hearts and minds".
With merit from both sides, the issue is hard to settle. In many universities, research can come to dominate teaching, a fact that Gordon finds unsettling.
"Research should be kept consistent with teaching at all universities," Gordon said. "There can be a little bit of inequality so long as one does not come to dominate the other."
At Trinity, the concept of research versus teaching is an issue acknowledged by professors and students alike. To many faculty, like assistant professor of political science, Keesha Middlemass, research and teaching are both significant and must be balanced  so that they further one another.
"I am a more effective teacher because of the research I do," Middlemass said. "By engaging in the literature and material of our area and by wrestling with our own ideas, we can incorporate that into the classroom and better our actual teaching."
Likewise, the practice of teaching often furthers research. To assistant professor of history Kenneth Loiselle, both teaching and research can build on one another.
"Teaching classes, in, say, in the French Enlightenment or the French Revolution, it forces me to think about my own research in a broader sense. Why does this matter, how is my research changing the conventional ideas?" Loiselle said. "In that way research and teaching are complimentary to one another."
Research can also further a student's academic experience.
"One real benefit of Trinity is the research that professors do that incorporates students into it," Middlemass said. "With smaller classes, it is easier to incorporate our students into our projects, which then gives them a leg up in graduate school and provides a good context and analysis of the real world."
   To students, as well, the opportunity to work alongside professors is an important one.
Sophomore and history major Matt Favaro said that both practices lend themselves to various uses, with the inclusionary research offered at Trinity as an important product.
"I think being exposed to research is enormously beneficial to students, as it pushes us harder and exposes us to the field of study in a new way," Favaro said.
   While research helps to involve and engage students intellectually, the concept of teaching is equally important. To many students, a balance of the two should be sought in order to reap the benefits of both. However, students recognize that professors should focus on their strengths as well.
"Performing research keeps professors at the top of their game and keeps evolving their ideas, which is extremely helpful for students," Favaro said. "Balancing the two is crucial to be a good teacher, but it's important to accept that teachers should do what they are best at overall."
   Unlike many other larger institutions, Trinity's unique composition allows for high- quality research blended with an emphasis on teaching to better the students' experience overall.
   "Trinity is one of the best places to conduct research. Since our teaching responsibilities are more robust, there is less research from a quantified point of view, which lends to higher- quality work," Loiselle said. "I think teaching and research really do go hand in hand, as being a great researcher enables you to teach and help students better."
Leave a Comment