Students and faculty "take the first step in faith" for MLK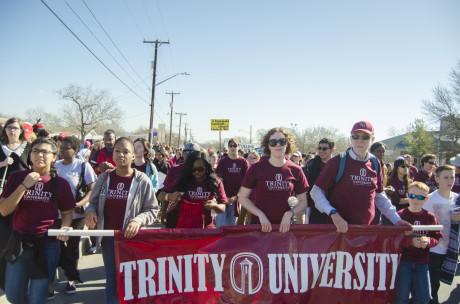 On Monday, Jan. 20, the annual Martin Luther King, Jr. March was held, drawing large crowds of San Antonio residents as well as many Trinity students. The march, starting at 10 a.m., worked its way down MLK drive until finishing at Pittman-Sullivan Park. The event, known as one of the largest MLK marches in the U.S., attracts over 100,000 walkers as well as many revered civil rights leaders.
The march honors the dreams and goals of Martin Luther King, Jr., reflecting his ideas of community and equality. According to the MLK March website, the event "exists to promote the vision and purpose of Dr. Martin Luther King, Jr.'s "Beloved Community.'"
To residents of San Antonio, as well as Trinity students, the march reflects an important attitude and belief. The march is a chance for many students to show their support for such beliefs and get engaged in a diverse community. Sophomore Zachary Galvin stated how much he enjoyed attending the march and the wonderful atmosphere of the whole event.
"I really enjoyed the MLK march, not only because of the importance of the day but also the fun, spirited and lively atmosphere," said Galvin.  "It was really interesting to hear all of the different Martin Luther King, Jr.-related chants that people came up with for the march and to see everyone involved."
The ideas of tolerance and equality represented by MLK, Jr. resonate strongly in many students, and are something many claim we should all strive for.
"You can see the work of Martin Luther King, Jr. in the crowds that participated in the march, as people from all races showed up to celebrate the life and achievements of a great man," said Galvin.
These ideas of community and bonding are fundamental to the life of King and his momentous legacy. To Cathryn Harris, a march participant and resident of San Antonio, the importance of community and tolerance are values that we could all use more of.
"This [march] shows how much people really care about one another," said Harris. "We fight and argue sometimes, but at the end of the day we have to be there to love our brothers and sisters regardless, just like Dr. King would want."
The showing this year was just as strong as ever, a fact that was met with great excitement by many. The outcome, regardless of size, however, is always positive for those involved, as it is a chance to honor the life of Martin Luther King, Jr.
"This march, and every year, represents what it means to be a community "" a community that can come together, no matter what and praise [and] honor a great man and what he strived for," said Harris.
With another large turnout this year, the ideas and convictions of Martin Luther King, Jr. are just as honored as ever, with participants from all demographics coming together to create a community.
According to Shokare Nakpodia of Dream Week San Antonio and Bishop David M. Copeland, the Martin Luther King, Jr. Commission Chair, this march represented just another chance for equality and love, and to "constantly improve human relationships so that people will come together as equals, and not judge one another by race, ethnicity, gender, creed or economic status."
Leave a Comment