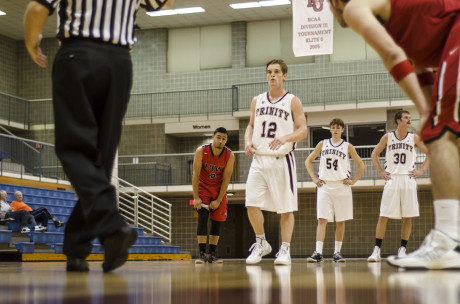 Last weekend the men's basketball team clinched two SCAC wins against Centenary College and  Austin College. On Friday, Jan. 17, the Tigers beat the Centenary Gents 82-61 at home. The following day, Saturday, Jan. 18, the Tigers played their second home game of the weekend and defeated the Austin Kangaroos 72-67. After these two victories, the Tigers' record increased to 9-7 overall and 4-1 in conference which currently puts them in second place behind Schreiner University.
"We won both games this weekend, so we're happy about sweeping another SCAC weekend. The Centenary game was a good win for us, as we played well and hit a lot of shots. The Austin College game wasn't as pretty, but we're happy to go undefeated over the weekend," junior point guard Craig Saltarelli said.
These games follow two SCAC games and the annual Trinity Classic Tournament, all of which occurred over winter break at Trinity. In the first game of the Trinity Classic, the Tigers played and beat Loras College on Dec. 29. The second day, Dec. 30, the Tigers fell to Pomona College 68-63.
Following the Trinity Classic, while school was still out of session, the Tigers played two SCAC games at home versus Texas Lutheran University on Jan. 10 and Schreiner University on Jan. 11. The team defeated TLU 64-37 and lost to Schreiner in a close 65-62 game.
Next up for Trinity are nine more SCAC games before the conference tournament, which will be held at Trinity from Feb. 28 through Mar. 2. The Tigers' goals for the rest of the season are simple: to win games and be prepared for the conference championship and NCAA playoffs.
"We want to win the SCAC which involves doing well in conference and getting a good seed, then go to the NCAA tournament and win some games there. To do that, we need to be able to close games out and play consistently. We played well in some games, and in other games we have a huge drop-off in our level of play," senior forward/guard Robert Kitzinger said.
Winning the SCAC title would be the third time in a row for the Tigers. Last year the Tigers fell in the first-round play, and if they reach the NCAA playoffs, they hope to advance further this year.
One key factor that will help them as they head into the final stretch of the season and conference championship is experience.
"We have to be able to play at a high level, on a more consistent basis. Our effort and enthusiasm need to be there each time we step on the floor. That is something we have yet to figure out. If we can figure that out, I think only good things are to come. It starts with our seniors," assistant coach Mason Wood said.
Kitzinger echoes the idea that seniors and experience are key factors in playing well and going far.
"We have a lot of older guys, so a lot of experience, and when it comes to that crunch time in late February and early March, we've been there before, so we know what to do this time," Kitzinger said.
The Tigers will play away at University of Dallas on Jan. 24, then head to Colorado to face Colorado College on Jan. 25.