University remembers former president Duncan Wimpress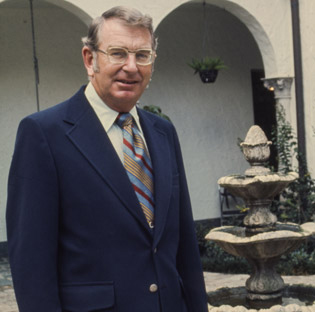 On Jan. 6, former Trinity president Duncan Wimpress passed away at the age of 91.
Wimpress, Trinity's fifteenth president, served the university from 1970 until 1976. During his time in charge, he implemented many  changes to the school. In one of his first speeches as president, Wimpress said, "Whatever the future holds for Trinity, I'm confident that the years ahead will be neither dull nor routine. Trinity University is on the move."
Among his many accomplishments, Wimpress altered and improved the academic and administrative formula of Trinity. He established the College of Arts and Sciences, and introduced new departments such as environmental studies, computer and information sciences and communication. Alongside major construction and renovation, overseeing the completion of the football stadium, Laurie Auditorium and Richardson Communication Center, Wimpress helped create the Student Finance Board,  giving students a say in the allocation of school spending.
To Robert Blystone, professor of biology, Wimpress sought to open up and create transparency in the financial realm of the university.
"He made the budget of the university transparent, something that surprised many people," said Blystone. "At that point the budget was not widely shared with anybody."
Wimpress also sought to make the school a bigger player in the surrounding community, To current president, Dennis Ahlburg, this is an idea that strongly resonates with his goals and with what Trinity represents.
"He did a lot to connect Trinity to the community which is something very important to Trinity," said Ahlburg. "We are a part of San Antonio, its not that we are just located here."
Despite his achievements, Wimpress nevertheless garnered criticism. Following the prolonged period of President James Laurie, Wimpress was forced to fill large shoes. Faced with pressure from growing costs, Dr. Wimpress eliminated all sport scholarships outside varsity tennis, a move that drew considerable criticism.
"He moved us into what we call Simon-pure athletics," said Blystone. "[He] kept tennis division one but moved everything else to division three "" that was not universally popular."
Yet outside of the accomplishments and criticisms remained a fascinating man to many.  Wimpress was the president of Trinity but was a complex and multi-faceted man with various talents.
"He was an impressive man when you first met him," said Blystone. "He had presence, stature, he was a pilot, he drove a Corvette [and] was a jazz drummer."
Even to this day, Dr. Wimpress' time as president has impacted the university. To many Wimpress was a man who sought innovative changes to the university and strived to make Trinity even better at every chance.
"What struck me was how innovative he was "" a lot of the things we are currently doing, it's humbling to realize they were things he was doing 40 years ago," said Ahlburg. "He was ahead of his time, doing a lot of interesting and important things for the university."
Leave a Comment