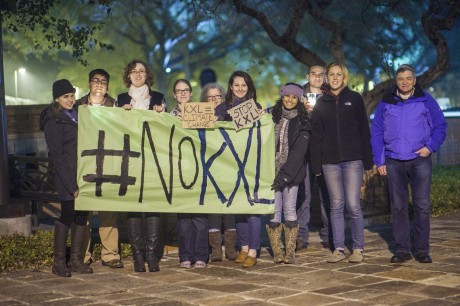 On Feb. 3, 15 anti-Keystone XL protesters, including members of the Trinity Progressives and non-Trinity guests, gathered at Murchison Tower and held a candlelight vigil to encourage President Obama not to approve an executive order on the construction of the Keystone pipeline.
The construction of the Keystone pipeline is seen by some as an opportunity to create jobs and others as a promise for more oil. However, the prospect of the construction of the pipeline is a controversial issue because it draws criticism from many environmentally focused organizations such as 350.org, Sierra Club, Rainforest Action Network and League of Conservation Voters.  Trinity progressives was just one of 200 vigils that took place that night.
"Basically we are out here tonight to show solidarity with the many across the nation, to strongly encourage President Obama not to approve the executive order to approve the construction of Keystone pipeline," says junior Avantika Krishna. "We believe that our show of solidarity will help President Obama see that there are many people who will support him in his decision and that we strongly encourage him to consider the consequences for the environment when he makes his decision soon."
It is unclear what decision President Obama will take on the construction of the pipeline.
Rachel Pauerstein, who is on the board of directors for Trinity Progressives elaborated on the potential damage that the construction could cause.
"I am a native Texan and this pipeline is coming to Texas. I don't think policy makers are adequately considering the consequences of this pipeline. They just see the promise of more oil. Texas communities line aquifers for ground water and if the pipeline ever leaks, it's going to contaminate that ground water. We're already in a water crisis and we cannot afford another one," Pauerstein said.
Christopher Presiado, from 350.org, was a guest who pointed out that the Keystone XL pipeline is not something that affects him directly, but something that may impact generations to come.  He is concerned that later generations in his family may bear the environmental costs of the construction of the pipeline.
"I will not see the brunt of the damage in my lifetime but my niece is going to begin to see the impact of what I call "˜globally catastrophic anthropogenic' climate change," Presiado said. "It's not just going to be my niece but there will be others who are going to be born a few years down the line and that is my stake in it, it is something called humanity which transcends time and present life."
Among the protesters was a lingering fear that the construction may be authorized. Pauerstein is concerned that Obama may pass the executive order based on fears that may "cave into corporate interests," though she isn't quite certain whether or not the executive order will pass. In the same vein, Presiado contends that based on his understanding of the political system, it may just pass anyway.