Softball starts season 1-3 after split with Our Lady of the Lake and two losses to UT-Tyler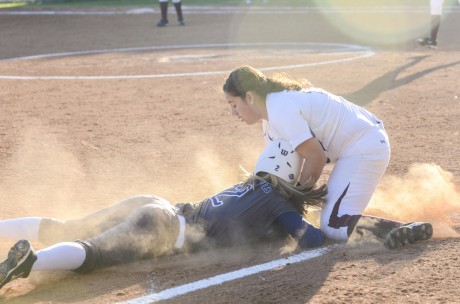 Trinity's softball team was swept in a Wednesday afternoon doubleheader against fifth-ranked University of Texas-Tyler, falling 7-0 and 12-0.
The Tigers fell to 1-3 on the season, after opening with a split against NAIA Our Lady of the Lake on Sunday afternoon.
Trinity allowed two runs in the second inning of the opening game, then suffered a five-run inning in the fifth.  UT-Tyler hit back-to-back home runs in the inning, beginning with a two-out grand slam on a full count.  All five runs were unearned, as the Tigers committed a costly error in the inning.
"Our team goal is to be the first seed and champions of the SCAC conference tournament. We have been so close to doing just that in the past, so we know it's within our reach. We just have to stay focused, sharp and play with an all-or-nothing mentality," said assistant coach Kara Reeves.
Sophomore pitcher Katie Castillon (1-1) suffered her first loss, giving up just two earned runs and striking out seven batters.  Castillon scattered 12 hits over her seven innings of work, though five of those hits came in the high-scoring fifth inning.
"Every game is a learning experience, and these games were no exception. We know what we have to work on and we're going to work hard every day to improve. I'm very optimistic about this season because I believe in my team and our abilities,"  Castillon said.
The Tiger offense managed just three hits in the game, coming from three different players.  Junior outfielder Lauren Mercado cracked the team's only extra-base hit, scoring a double late in the game.  Senior second base Chrissy Armstrong and sophomore outfielder Emily Fleischman also collected hits in the opener.
UT-Tyler scored in each of the first four innings of game two, pulling out to a 7-0 lead.  The Tigers gave up another big inning in this game, allowing five runs in the sixth to set up the run-rule""which shortened the game to just six innings.
Fleischman and first-year third baseman Sarah Paller had Trinity's only hits in the second game.
"We have a lot of big hitters on the team this year. Our line-up is pretty stacked in terms of who can really hit the ball hard. We have had a slow start in making solid contact with the ball in this past week's games, but I'm confident that by the time our conference games have started we will be crushing the ball," Fleischman said.
Sophomore pitcher Kaci Wellik (0-2) took the loss in the game, giving up nine runs over five-plus innings of work.  Castillon finished off the final inning of the game, but did allow three runs on four hits.
Trinity returns to action on Feb. 25, taking on the University of Mary Hardin-Baylor in a road doubleheader.  The Tigers return home on March 8, hosting Calumet College of St. Joseph (Ind.).
Leave a Comment