Track and field team has strong performance at Trinity Open against ferocious competition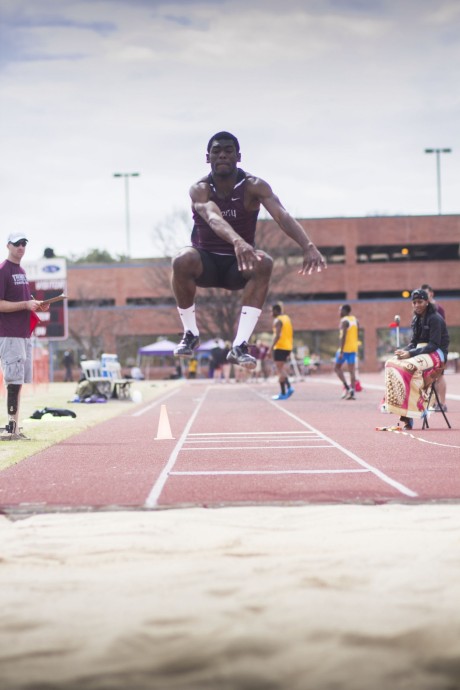 The Trinity Tigers men's and women's track and field teams hosted their first meet of the season on Saturday, Feb. 22.
The competition was fierce, and included NCAA Division II school Angelo State University, along with other Division III teams and independent participants from across Texas.
"I think we have always competed really well at home.  Our student athletes are generally very comfortable and we have a great crowd of students showing up and supporting the team," said head track and field coach Marcus Whitehead.
Some of the strongest performances for the day came from the female runners during the 1500-meter run, where Trinity runners managed to snag the top four places. Senior distance runner Vanessa Moreno won the event with a time of 4:45.01. Senior distance runner, Maddie Murphy was runner-up at 4:49.44, a personal best for Murphy.  Junior distance runners Michelle Oberndorf came in third with a 4:58.64 and junior Autumn Kervella was fourth, with a personal best of 5:05.52.
Senior distance runner Jackie Newell won the women's 5000 meter, clocking in at 18:52.31. Senior thrower Kelsey Oelze emerged as the javelin champion, with a personal-best throw of 38.95 meters, the fourth longest in Trinity history.
"The first goal in any sport is to excel in it, and in my opinion, we have the most talented group of students I have seen in four seasons, so we have already proved that we are a hard team to beat," Oelze said. "For overall season goals, it would be great to win the SCAC title again for both the men's and women's teams."
The women's distance medley team, made up of Murphy, Kervella, senior distance runner Jessica Needle and sophomore distance runner Mariana Sigala, were runners-up at the meet with a time of 13:03.54.
"The preparation is figured into the training.  I would say track and field is 95 percent physical and 5 percent mental, but that 5 percent can mean the difference of getting 1st and 8th at the national level," Whitehead said.
The men's 3000-meter steeplechase concluded with Trinity athletes sweeping all of the top three positions. The runners were junior distance runner Connor Amoruso (10:39.38), first year distance runner Evan Epps (10:39.67) and sophomore distance runner Brandon Wilson (11:19.13).
The 10000 meter also belonged to the Tigers, as sophomore distance runner Taylor Piske ran a personal-best time of 32:29.70 to win the competition. The time was the third best in the Trinity record books. Senior distance runner Gerardo Hernandez took second place with a personal record of 33:14.80, ranked eighth in Tiger history.
Senior jumps athlete George Warren tied for the best height in the high jump (2.03 meters), but placed second because of a miss.
In the 200 meter, junior sprints runner Cody Wolfe finished fourth, with a personal best time of 22.75 seconds.
"I think DIII athletes are often overlooked because we are not on athletic scholarships. What that means, though, is that each of us competes for sake of the sport and competition; there is no financial incentive, and it is a large time commitment," Wolfe said. "So when the team and I get ready to compete on Saturdays, no one is making us do anything. Each of us wants to be there for no reason other than to compete and do what we love. Everyone invests in the program and works to succeed individually, and as a team. Not to say these qualities are absent in the larger divisions of the NCAA, but I think it is especially true of Trinity athletes, and contributes to any edge we may have over larger schools."
Trinity teams will compete in the Corpus Christi Invitational March 15 in Corpus Christi, Texas. The Tiger relays will be at home March 28, and Trinity squads will defend their titles by hosting the Southern Collegiate Athletic Conference Championships April 25-26.
Leave a Comment