Nafisi extolls the role of literature in democratic society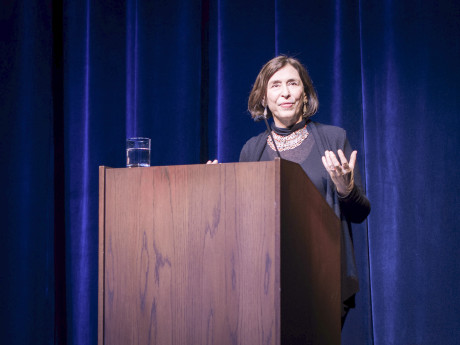 Speaker and author Azar Nafisi spoke in Stieren Theatre Tuesday, March 20. The theatre was completely packed with students, faculty and people from the surrounding community – including people from Lubbock, Texas, who came by bus.
The event was held to mark the 10th anniversary of Trinity University Press, which publishes books intended for scholars and students. Senior Trinity student Ambreen Hooda gave an introduction to Nafisi's talk.
"Azar Nafisi is best known for her memoir, "Reading Lolita in Tehran," which  received several awards and was named one of the 100 best books of the decade in 2009 by the London Times. It has spent 117 weeks on the New York Times Bestseller list and has been translated into 32 languages," Hooda said.
Nafisi is currently a professor at the Foreign Policy Institute of Johns Hopkins University's School of Advanced International Studies. She taught at Oxford University and at the University of Tehran until she was expelled for refusing to wear a veil. She has also written for The Washington Post, The New York Times, and The Wall Street Journal. Nafisi continues to write and plans on releasing a new book later this year.
"Forthcoming this fall is the her latest book, "the Republic of the Imagination," about the power of literature to liberate minds and people," Hooda said.
Many people in the audience were familiar with Nafisi's writings and accomplishments and were eager to hear what she had to say.
"I read "Reading Lolita"about ten years ago and just loved it. It was about her being a teacher and getting girls to come to her house and take of their head covering and reading Western literature," said audience member Salley Dooley.
Trinity students were also among those in attendance. One student was attending because of a lecture given in her International Communications class by  University Press staff member.
"I'm an international affairs major and the high school I went to had a large Muslim concentration, so my three or four best friends from high school are Muslim. It's an issue that I cared about deeply since I was 13. The work that she has done is inspiring. I couldn't wait to hear her speak after I read the small wonderful things I've read about her," said sophomore Annalisa Trevino.
Nafisi started off her talk by discussing how literature is a source of enrichment and has the potential to be a transformative power in a person's life.
"One of the best things about books is the connections they make. They make these connections not because of where you were born or what kind of language you speak or your race or your gender, but because you all share a space which is a space of passion and dreams. In this manner strangers complete strangers and become intimate strangers," Nafisi said.
Nafisi believes that both the sciences and the humanities are fueled by the same two sources: curiosity and passion.
"This is the whole idea behind the "˜Republic of Imagination.' Imagination, like ideas, is based on two important things. One is curiosity, the desire, the urge  to know something or someone other than yourself," Nafisi said.
The latter part of her speech focused on how the humanities preserve and reflect cultures and how they are often the first entities that tyrannical regimes attack when coming into power, as has happened in her birthplace, Iran.
"In a democratic society, the duty of that society is to provide each and every one of its citizens with the opportunity to fulfill themselves through their passion. The crisis that we are facing today is not merely an economic crisis, not merely a political crisis, but it is, I believe, also a crisis of vision," Nafisi said.
Nafisi concluded her lecture by reminding the audience  of the importance our "culture of democracy" plays in fostering creativity and exploration. After Nafisi finished speaking, a book signing was held for those in the audience who attended the talk.
Leave a Comment