TUPD "Gentle Giant" passes away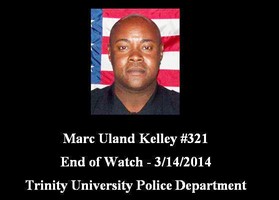 The Trinity community learned about the passing of Trinity University Police officer Marc Kelley on March 17. Kelley was responding to a fire alarm call when he collapsed.
Kelley worked with the Trinity University Police Department (TUPD) for three years. Fellow officers remember Kelley as a pleasure to work with, and his death served as a severe shock to TUPD. All officers were able to attend his funeral service to pay tribute.
"It just hit you like a brick wall," says sergeant Mark Vallejo, who was the honor guard at Kelley's funeral. "One minute I was clocking in and he was clocking out and the next minute he was in ICU."
For our TUPD officers, it was not only a shock, but also a reality that was difficult to accept because of Kelley's youth.
"It was really hard to accept because he was young and he died doing something over and over again, and that's what made it a bitter pill to swallow," says Joe Hernandez, who was the flag bearer at the funeral.
TUPD officers applaud and commend his hard work, dedication to his profession and his strength of character.
"I have known him for the three years he's been here. Mark was a very good worker and he was on the bike team. He's always on time. We never had to follow him around; we gave him a job and he'd do it. He was very patient and hard to anger. He did his job well," Vallejo said. "We couldn't have asked for anything better."
Marc Kelley is remembered not only as a hard worker who was dedicated to keeping the Trinity community 100 percent safe; he is also remembered as a team player.
"I did not speak to him as much because we were all just coming and going. He was a nice person and really quiet. He was known as a gentle giant because he was really nice and did not speak ill of anyone, said officer David Estrada.
Hernandez shares his sentiments when he got to know Kelley's personally.
"We shared a lot of our lives together. Mark never cursed, he joked around, but he never took it to an extreme," Hernandez said. "I remember him as a gentle giant."
Leave a Comment