HOPE Hall directorship changes hands and leadership model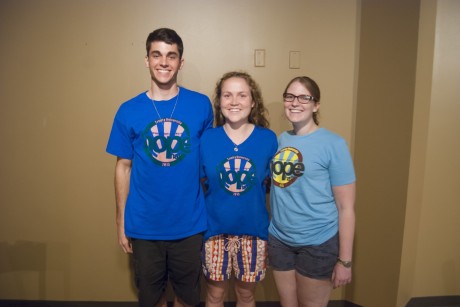 With the approaching graduation of Katie Ogawa this May, senior biology major and current founder and director of Hope Hall, the position of director for the homelessness advocacy residence hall has been divided and assigned to two current members, junior biology major Jacob Hall and sophomore environmental science and economics major Melody Sowder.
"I think what I am leaving behind is a lot of really incredible people that are very compassionate and have a lot of energy, and I am really excited to see where it goes," Ogawa said. "I think it's been incredible to see the change from 30 people to now, pretty much a full dorm."
It was announced shortly before spring break that beginning this fall semester, Hall will serve as the director and hall manager employed by Residential Life and Sowder will serve as the director of community outreach for HOPE Hall and will manage the community partners each resident is required to volunteer.
"I am really excited that we are kind of breaking up the leadership because it's obviously such a large job, especially since we have grown in numbers and it worked out really well," Sowder said. "I am really excited to work with the community partners, because I think that's one of the most important things that Hope Hall does. We are not only there to serve people experiencing homelessness, but we are also there to serve the organizations that do that on a daily basis."
For the past two years, Ogawa managed community partners and was employed by ResLife to be a hall manager for Murchison Residence Hall, which HOPE Hall has partially occupied since its start two years ago. However, the position of hall manager will now be separate, but connected, from the management of volunteering residents and community partnerships.
"I do the ResLife stuff like try to build community within the hall and lead weekly meetings. I am really looking forward to the opportunity to still work with [HOPE] hall," Hall said. "This hall is only two years old and the organization is still growing and evolving, and Katie is leaving. Those are obviously big shoes to fill, but I think the strength of the hall lies within the individuals who serve and participate in the overall community."
Hall anticipates that managing HOPE Hall will be a particularly unique experience, especially in regards to community building and its range of ages from first years through seniors.
"The people in HOPE Hall have chosen to live here and all share a common passion and desire to serve specifically those experiencing homelessness," Hall said. "I feel like that makes my job easier, though, because we are all on the same team and we all have the same goal and, honestly, I don't feel like I have to worry about anybody in regards to stuff that a normal ResLife staff member would have to worry about, so that will just make it easier on me."
According to Sowder, HOPE Hall may be diversifying and expanding its current community partners and anticipates having five to ten possible organizations for which residents can volunteer.
"We want to make sure that we have a variety of opportunities. Obviously we are a diverse group of students. For instance, we have students who are interested in art, and we have community partners that work with helping people experiencing homelessness develop their artistic side and spiritual services, more than just feeding them a meal," Sowder said. "That is obviously important, but they are people and they have more needs than just food, so we are trying to expand the types of services that we will provide as well."
In addition to the director positions, HOPE Hall will also include four elected members of a leadership team to help coordinate events and communication between partners for the hall. As in the past two years, HOPEHall will be occupying Murchison Residence Hall.
According to Ogawa, it is anticipated that they will occupy the entire residence hall next year, with 53 members and an estimated 10 fluctuating members who will be abroad.
"I am just really excited to see so many people passionately involved, and I think that will be the biggest area for growth and that's how this all started," Ogawa said. "I think that will be great and our new leadership style will work really well."
Leave a Comment