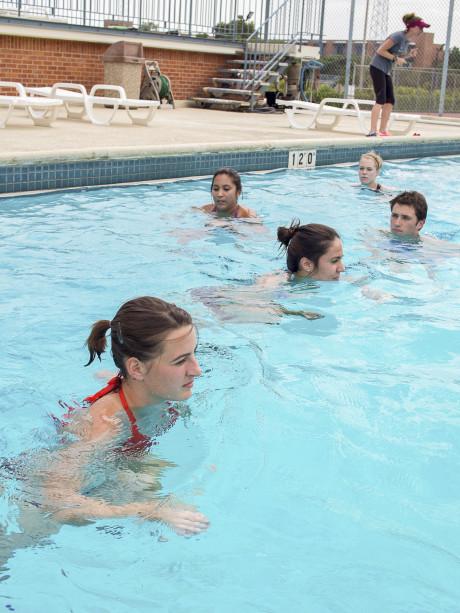 The cross-country team started practice this week with many new faces on the team""including a new head coach.
Emily Daum took over as head coach after Derrick Lawrence left the program this summer.
Daum, a Trinity aluma, was a four-time All-American, two-time Southern Collegiate Athletic Conference Runner of the Year and a winner of 10 SCAC Championships for various events while a member of the track and cross country teams at Trinity. She also placed 17th individually at the 2008 NCAA Division III Cross-Country Championships, contributing to the women's cross-country team's sixth-place finish.
Daum held the assistant coach position of the Tiger cross-country team for two years before taking over the head coach position this season.
"She's already seen us race; she already knows us, so it was a pretty easy transition," said Mariana Sigala, junior runner.
This season Daum plans to hit the ground running, intending to make some positive changes in team management in order to leave one more mark on the Trinity cross-country program.
The team will focus on maintaining year-to-year consistency  and making sure each athlete feels like part of the team. After the team's recent successes.
"The changes we are making to the program are really going to be focused on being consistent at that level," Daum said.
Even though practice just started, the runners already notice a difference in the feel of the team.
"There is a good team dynamic already"¦it feels like we are part of a family," said Julia Torres, sophomore runner.
Four of last year's top five women runners graduated last May, so the team will need to adjust to its new dynamic.
"It is tough to lose some of the girls, but I think we're going to still keep up the momentum," Sigala said.
The Tigers hope to compete hard this season and stay as healthy as possible while holding themselves to a high standard as both students and athletes.
"Our goals are realistic; we know we're a very young team," Daum said.
Last season, the men's and women's teams won the Southern Collegiate Athletic Conference titles for the second consecutive year.
The Tiger women also advanced to the NCAA Division III Championships and finished 20th. However, a repeat of last year's performance will be harder for the Tigers this season after graduating key runners, but the team will strive to be competitive and win conference for the third time.
The Tigers will kick off the season at the Alamo City Opener on Friday, Aug 29. at Olmos Basin Park.
The meet will feature other local teams like University of Texas at San Antonio, University of the Incarnate Word, Our Lady of the Lake University, Texas Lutheran University and Texas State University.