TUPD expands into neighboring Kings Court house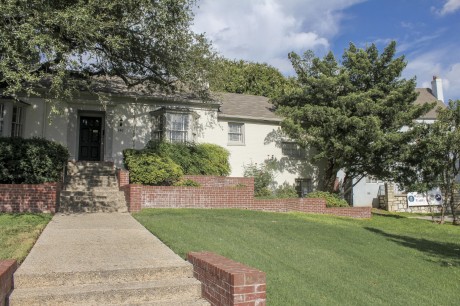 Luke Wise: How did TUPD aquire this property?
Chief of Police, Paul Chapa: Dean Tuttle occupied this home for a number of years. After it became available we were next door and hurting for room and so I proposed it to my VP Gary Logan and it worked.
What is the size of TUPD like currently? How many staff members do you have?
Total staff is about 30-33 officers. One officer described it like putting 10 lbs of potatoes in a 5 lb bag. It was very tight in there; it was just an undesirable setting for us.
Is this move a permanent soultion for TUPD?
We are technically on campus still, but yes, hopefully this is our final move for us; it appears to meet all our demands, we have described this as our administrative side (540 Kings Court) and next door at 538 as our operations side which houses our 24 hour dispatch, the partrol room, locker room and the assistant chief of police Pete Benez's office.
Are there any future plans around further expansions?
When they moved us to 538 temporarily which turned into a three year move we knew that we needed some more space. In reference to growth; no, I think we are staffed where we need to be to do the job that we are doing now.
Is there anything you want to let students know around the recent changes?
We are here for our student body, faculty and staffif there is anything we can ever do, stop by and say hello. I also encourage the community to visit our website where there is tons of information, safety tips and safety videos that staff and students can watch as well.
Leave a Comment