Coates renovations remove student posters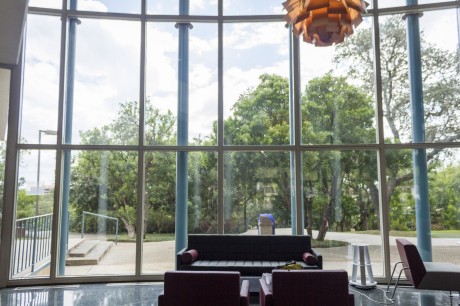 Up until this academic year, student organizations were allowed to hang handmade and printed banners around the Coates University Center to advertise upcoming events and promote general awareness about organizations.
This year, David Tuttle, associate vice president for student affairs and dean of students, has implemented a new policy that does not allow student organizations to hang banners on the walls in the Coates Center.
"With the renovations to the Coates Center and looking at how the space is used, being student-friendly and with new furniture and a whole new look, we decided to try something out," said Jamie Thompson, director of campus and community involvement. "The decision was initiated by the dean of students but definitely supported by the department and the division of student affairs."
Since his office now resides in the Coates Center, Tuttle had the opportunity to see the different phases of the renovation roll out, according to Thompson. Old furniture was removed, the space was freshly painted, and new furniture started coming in. Seeing the new look, the dean decided to try out the new policy.
The decision was primarily made to highlight the features of the Coates Center building and draw attention to the freshly renovated space.
"He [the dean of students] wants the building to have a fresh, new look and sometimes with the posters that are up there, it really clutters the space," said Becka Bovio, coordinator of student programs for campus and community involvement.
"One of the most beautiful and unique elements of that building is the almost 180 degrees of windows there from the Einstein's exit all the way to the sliding glass doors," Thompson said. "It is all windows, which is pretty unique. The banners were nice to promote events, but I also think there is a really nice beautiful element being able to see from inside to outside and feeling that space come together."
Although student organizations are no longer allowed to hang banners in Coates, both Thompson and Bovio have maintained that there are many other ways for students to advertise.
"If anything, we are asking students to be a little more creative," Bovio said.
Likewise, Thompson sees the change as an opportunity for students to get creative in their efforts.
"Students can still make banners or print banners using our large banner printer and hang them in Mabee, or use them for a specific event if they wanted to have one at the actual event," Thompson said. "I think what we may end up seeing is organizations advertising in more creative ways, more unique ways. We used to see signs on stakes in the grass and we used to see things hung from trees every now and then. So we will see some unique things, which will be exciting."
The new walls in the Coates Center may not be barren for long; there is speculation of adding student artwork.
"We are working with the art department to look at student art in the building, rotating exhibits and maybe also some permanent items," Thompson said. "And that is what I hope to see in the space. I hope to see it come alive because one of the things that the banners brought to the space was a sense of our vibrant campus life."
However, the policy does not have a definite lifespan, according to Bovio.
"The decision he [the dean of students] has made is indefinite," Bovio said. "We do not know when there might be an end or not to this particular circumstance."
Because there has not been any significant student feedback, the decision will stay in place.
"If I heard an uproarious cry from the organizations, I would 100 percent advocate for them," Bovio said. "It would be one of those things where if everyone was coming to me very displeased, I would fight for them. With that said, I would, with all respect to Dean Tuttle, if it was something I felt needed to be changed, I would have no problem telling him that. But right now, we have not heard enough complaints to worry about it."
Most students have not taken particular notice of the absence of the banners, but others have expressed their concerns.
"I understand the perspectives that go into wanting Coates to be clean and look good, but I think as well you have to remember that the whole area was redesigned to make a better student center," said Liam Miner. "We want it to be all for the students. I don't really see why you wouldn't let students put up posters in there because that is what the space for. It's for the students. It needs to let students put up what they want and advertise what they are doing and promote their different groups."
Leave a Comment