Football defeated 38-14 by No. 14 Pacific Lutheran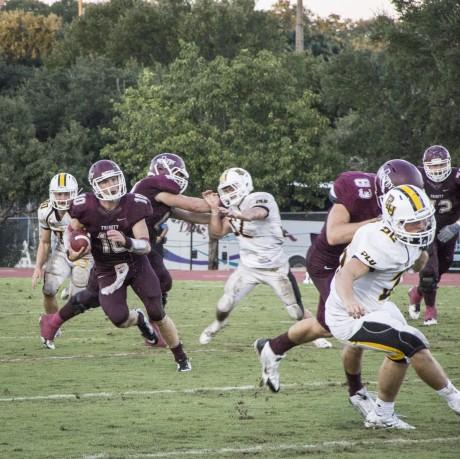 The Trinity Tigers season record fell to 1-3 after a defeat at the hands of Pacific Lutheran University (Wash.). The Tigers lost 38-14 to the No. 14 ranked Lutes last Saturday.
The two teams kicked off the game trading touchdowns in the first, quarter. Although the Lutes scored first the Tigers quickly answered with a touchdown drive of their own.
At the end of the first quarter the Lutes went on a 78-yard touchdown drive to take a 14-7 lead going into the second quarter.
In the second quarter, the Lutes outscored the Tigers 14-7 bringing the score to 28-14 going into halftime.
"The game started off really well, but we have to do a better job finishing," said first year Jordan Williams.
In the second half the Lutes scored a touchdown and field goal to finish off the game and bring the final score to 38-14.
Leading the offense was junior running back Travis Williams, who rushed for 73 yards and two touchdowns.  Senior quarterback Mason Blaschke threw for 58 yards and rushed for 40 yards on the day.
The Tigers forced three turnovers during the game against the Lutes.
Junior Camden Joubert led the defense and recorded nine solo tackles. Sophomore linebacker Julian Turner, and senior Jai Boatman both picked up eight tackles on the day.
Senior linebacker Connor Yorloff and junior linebacker Caleb Green both picked up interceptions, and sophomore defensive Brad Hood recovered a fumble.
Senior running back Matthew Kennemer came close to setting a school record for single game kick return yards. Kennemer rushed for 181 yards on only five returns during the game.
"Our kickoff return unit gave us good field position all night long. As a team we need to execute and play with the same passion within the confines of the schemes," said assistant coach Paul Michalac.
At 1:00 p.m. on Saturday, Oct. 4 the Tigers travel to Hardin-Simmons University (Texas) to play the Cowboys.
Leave a Comment