Men's soccer finishes up SCAC regular season play with wins against Southwestern and UC Santa Cruz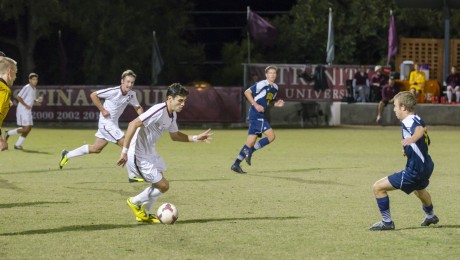 On Friday, Oct., 31 the second-ranked Trinity men's soccer team took on Southwestern University to close out their SCAC schedule.
The Tigers finished their conference campaign with a 4-0 shutout victory over the Southwestern Pirates.
"It felt good to close out the conference schedule with a win," said first year Daniel Ruano.
This victory moves the Tigers to 18-1-0 overall with an undefeated record in conference play, earning the team a No. 1 seed in the conference tournament.
The first half remained scoreless until senior Simon Uribe knocked in the eventual game-winning solo shot at the end of the 19th minute.
In the 53rd minute of the second half, Zach Treu scored an unassisted goal, giving the Tigers a 2-0 lead over the Pirates.
In the 79th minute, senior Johnny Lawson drilled an unassisted goal to widen the lead to 3-0 for the Tigers.
Closing out the Tigers' scoring for the game was a goal from Tom Carwile assisted Victor Araujo.
Senior goalkeeper Matt played for the full 90 minutes.
Later that weekend, the Tigers wrapped up their regular season with a 2-0-shutout victory over the University of California-Santa Cruz.
This win moved the Tigers foreward to an overall record of 19-1-0.
"Santa Cruz was one of the better teams we have played this year. Historically, they have a good soccer program. It was good for the team to get a well-earned victory over a competitive opponent. It will help them for the postseason," said sophomore Wade Hoffman.
The game remained scoreless for the first half.
The eventual game-winning goal came off a penalty kick from Araujo in the 75th minute of the second half.
First year Kellen Reid scored the closing goal of the match with 45 seconds left on the clock on an assist from Lawson.
The regular season is now over and this weekend, Nov. 8-9, the Tigers compete in the SCAC championship in Seguin, Texas at Texas Luteran University.
At 11:30 a.m. on Saturday, Nov. 8, the Tigers play against the winner of TLU versus Dallas; if they win that game, they will play in the final at 1 p.m. on Sunday, Nov. 9.
Leave a Comment