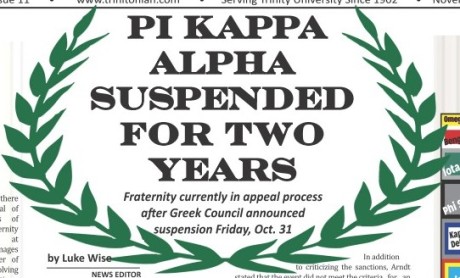 After a Greek Council hearing last Tuesday, Oct. 28, Pi Kappa Alpha (Pike) has been suspended from campus for a two-year period.  The suspension comes following the fraternity's probationary period beginning the spring of last year.  According to the Pike president Frankie Arndt, junior, the sanctions were following an alleged unregistered party.
"We were brought in for an unregistered party that had apparently happened," Arndt said. "The three sanctions we were accused of were: one, an unregistered party; two, an alcohol violation; and, number three a rush violation."
Regarding the sanctions, Arndt felt the sanctions were unwarranted in various senses.
"It wasn't an unregistered party and it wasn't during rush so how could you add on a rush violation?" Arndt said. "The reports of the alcohol violations said here were unsafe amounts of drinking"¦Everyone that was drinking was of age at this get together and the school even recognized there were people coming from an overflow of other parties."
In addition to criticizing the sanctions, Arndt stated that the event did not meet the criteria for an unregistered party.
"It wasn't marketed by the fraternity there were not any chapter funds," Arndt said. "After all that was said we were found guilty for an unregistered party which 17 percent of our organization was at""there were only five members there."
With the deliberations regarding the incident closed, members of Greek Council were unable to comment on the steps and proceedings of the hearings.
"In the original hearing they were found to be in violation of policies of the university and to some Greek Council policies," John Pederson, Greek Council men's co-chair, said. "That finding of responsibility in context of their current probationary status and judicial history allowed us to assign them that two-year suspension. In Trinity University standards, that means they can't wear those letters on campus. They can't reserve spaces on campus or organize and co-host any events on or off campus""that includes meetings of any sort or any recruitment and orientation processes."
In regards to the punishments following the sanctions, Arndt found the results to be an infringement of his rights as a student and was shocked by the decision.
"They basically took away our First Amendment by telling us we can't wear our letters and we are not allowed to hang out in groups because that can be associated with a fraternity meeting""it's a big thing," Arndt said. "For the protection of the students' rights, that's ridiculous, though we will respect our sanction even though we don't agree with it at all."
Alongside his criticisms towards the sanctions, Arndt noted the damage this outcome will have on the organization.
"It just seems strange to me that this was choreographed perfectly by the school. They took away a pledge class last year they gave us a two -year suspension," Arndt said. "Our youngest pledge class graduates in two years so they said to us in an email it gives us a chance to rebuild""how are we supposed to rebuild as an organization without anyone here?"
In regards to this critique, Pederson made note of the other responses by various Greek organizations that have faced similar situations.
"The four organizations sanctioned in 2012 had some of the biggest turnarounds with recruitment last year, there is definitely potential for positivity," Pederson said.
While the 2012 sanctions were from university action, the Pikes faced sanctions from Greek Council.
"Greek Council and university actions are different, separate," said Briana McGlamory, coordinator for fraternity and sorority life. "[The 2012 incidents] weren't through Greek Council, it was a different hearing process."
While on a probationary period following cases from the spring of 2013, Arndt mentioned the fraternity's recent charity events and new action plan towards the issue of sexual assault.
"I'm sure they are saying we have a history of this, but we have implemented an action plan, and CCI has told us they are pleased with how well we are executing our action plan and we have been out of trouble since the beginning of last year," Arndt said. "It just seems that even when the good things we do are questioned by the school you are kind of in a lose-lose scenario."
The Pike's probationary period was following two cases in the spring of last year, leading to their inability to take a new pledge class and the probationary status.
"There were two specific cases in the spring; the first in the spring semester led to their inability to take a new member class on bid day and another case, maybe a month later, and the outcome was probation through orientation through 2015," McGlamory said.
Currently, while already dealt the sanctions, Pi Kappa Alpha is in an appeals process with the Greek Council. Greek Council, made of 10 executive members, randomly assigns four members to any hearing alongside the judicial chair.
"The remaining five members did not hear any of the initial deliberation and are eligible to be on our appeal board," said Pederson.
This is done by Greek Council to make sure there are no conflicts of interest and to eliminate any biases that may arise from different cases.
"They don't all serve on each case and that information, we don't discuss cases with the rest of the members," McGlamory said. "The deliberations are private and not discussed with the rest""it's a random draw."
In the midst of the situation, Pederson noted the climate of the Greek community and Trinity, calling upon all organizations to help support each other through the process.
"The Greek community is close-knit here, we get to see each other succeed in things," Pederson said. "We have called on the entire Greek community to be an extra support system for each other as everyone hears this information."
The outcome of the situation has left Arndt in awe, with Greek Council's decision leaving a precedent for the community of students at Trinity""around one quarter of the student body.
"If they do decide to keep the original sanctions, there is precedent being set""Greek Council in general has instilled a fear into every Greek organization rather than coming together collectively and helping each other out," Arndt said. "I feel there is always a fear of getting in trouble based on pressure put on by the heads, and people talk about it but when it comes to doing something about it they're afraid because more attention will be drawn to them."