Banners allowed back in Coates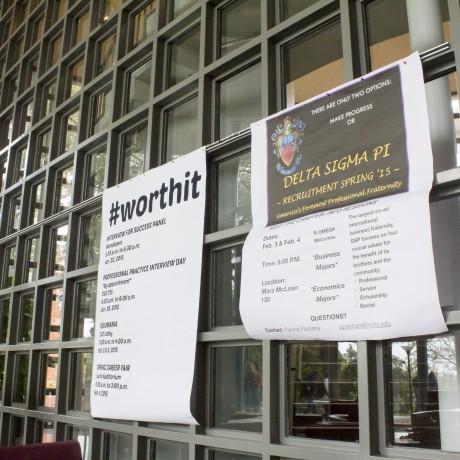 Following their removal from the Coates University Center this academic year after renovations to the building, banners and posters for student organizations and events have returned in the area nearby the stairs across from the windows.
The return of the banners was approved by associate vice president for student affairs and dean of students David Tuttle, as well as Campus and Community Involvement.
There are four available spots to student organizations for place these banners, and should this be of interest to them, they should refer to T-Space.
"After the issue was raised in the fall, I suggested to CCI that those limited spots by the stairs could be used," Tuttle said. "They just needed to design a process."
The posters were removed from Coates following the renovation of the building, which prompted CCI and the division of student affairs to implement a ban on the posters.
This ban aimed to contribute further to the open atmosphere of Coates. The removal of the posters caused a response from students, and this year the posters have been allowed again in a small area of Coates.
To reserve space for the posters, student organizations must go onto T-Space. Allowances for the posters are given on a first-come, first-serve basis, and the posters are allowed for three days, and must go up on the first day of the reservation.
The posters must be dropped off at the Coates office where the staff will initial and date the poster and hang it up in its designated space. They cannot be hung or removed by student organizations. In addition to this process, groups cannot book the space consecutively if there are others interested in using the space that are already in the queue.
"I think this compromise allows the most high profile events to be publicized," Tuttle said. "It is one of the many avenues to learn about events."
Though posters were originally placed by student organizations across many of the windows in Coates, they are now placed near the stairwell so that the surrounding windows of Coates are not covered.
Leave a Comment