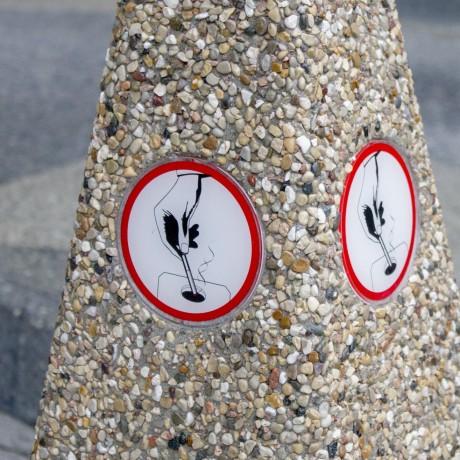 The Student Government Association published the results of their annual smoking survey this Wednesday. The survey received 1,000 responses and the results found that a majority of responders would support a smoking ban on campus, with 507 in favor, and 493 against. The results of the survey will be used in deciding how the university will proceed in addressing this issue.
"It is definitely interesting to see the responses," said SGA president Sean McCutchen. "I think the general tide in the United States is that campuses are going smoking and tobacco free."
McCutchen explained that the survey is distributed yearly, but this year students and faculty members expressed additional interest in opening a dialogue around the issue.
While there are individual surveys for dormitories to decide whether or not they allow smoking on balconies every year, this survey seeks to discover student views on smoking across campus. The issue has been discussed by senators during SGA meetings and has been a common topic of discussion on social media.
"I don't put that much weight in anonymous social media," McCutchen said. "But I think that it is a good indicator about what issues to approach."
Smoking bans have been a topic of discussion on campuses across the country this year. Much of the basis behind banning smoking on university campuses has been to minimize exposure to secondhand smoke.
According to the Centers for Disease Control and Prevention, there is no level of exposure to secondhand smoke that is risk free. Exposure to secondhand smoke can also lead to complications from inhaling it for individuals with existing conditions such as asthma.
The CDC reports that smoking kills around 480,000 individuals a year, with over 41,000 of these deaths coming from secondhand smoke. A 2013 study showed approximately 17.8 percent of the U.S. population smoked, with ages 18-24 making up 18.7 percent of that total, behind the leading age group, ages 25-44, consisting of 20.1 percent.
"Students lobbied us to provide condoms on campus for their sexual health," said David Tuttle, associate vice president for student affairs and dean of students. "They pushed us to adopt the responsible friend policy to ensure safety related to alcohol. They ask for healthy choices in dining areas. So it seems a little duplicitous to say we should then stay out of their lungs, especially when secondhand smoke is such an issue."
McCutchen reported that the results of the student survey would lead the actions of SGA going forward, potentially leading to a public forum in order to discuss the ban.
The Safety, Health and Security committee will likely consider the issue as well. While the survey found that a majority of students would support a smoking ban on campus, a majority of students voted "no" when asked whether or not they would support a ban of electronic cigarettes or complete tobacco use. However a majority of students opposed a complete ban on tobacco.
"It is our job to listen to what students and faculty feel is important," McCutchen said. "This year this issue seems to be a lot more prominent."
As of Wednesday afternoon, a decision had not been made in response to the survey's findings. McCutchen reported that he would be meeting with Safety, Health and Security committee leader and professor of human communication John McGrath to speak about the plans of faculty or the administration. McGrath could not be reached for comment.
"We want students to be bright, engaged and productive citizens. We are hiring a wellness coordinator to help students learn to lead healthy lives," Tuttle said. "Why do that and then give smoking a pass? So I suppose a ban makes sense."