Residential Life search and seizure policies
As students settle into their rooms, Res Life staff wants to make sure they are aware of the guidelines in place for entering and searching rooms.
"Residential Life Student staff members are permitted to enter rooms, but as a courtesy to our students, it is our policy to have staff members enter a room only after they, one, knock a few times, two, clearly identify themselves and three, state that they are members of the Residential Life staff. We also ask that they enter rooms in pairs. If we believe a student is in immediate danger, we will, of course, enter the room to assist and contact emergency personnel as needed," said Melissa Flowers, coordinator for Residential Life.
Residential Life looks for visible policy violations but does not completely search residents' rooms.
"Residential Life staff members do not conduct room searches. They are able to look around the room to see if there are any visible policy violations and to ensure that all of the students present are included in their report. Our staff are able to check anywhere a person can fit, so they are permitted to check the closet, the bathroom/shower, and the balconies," Flowers said.
There are some exceptions to the policy to search only where a person can fit. Residential Life staff members are permitted to search refrigerators.
"All University staff members who are investigating a possible alcohol violation are trained to ask residents to open the room refrigerator to ensure that no alcohol remains behind. Students may refuse this request, but can expect that the Conduct Board will ask about that refusal," according to the Residential Life Policies Board and Residential Agreement.
Emily Garret, sophomore, finds the policies reasonable, as they aim to keep students safe.
"I think they need to keep everyone safe, and I've never really had any problems with them overdoing it. I've never had anyone come and search our room without a reason. I don't think it's unreasonable for them to be able to come in and investigate if need be. They're not overstepping and coming in every week,"  Garrett said.
TUPD is responsible for conducting room searches, but these searches can only be conducted with institutional approval.
They were unable to comment on their search policies at the time of publication.
"University police officers are able to search rooms with a written approval from me, Dean Tuttle or the Chief of Police. These can be issued if there is strong reason to believe the presence of drugs, weapons, certain types/quantities of alcohol and any other objects that may pose a direct threat to the student's safety or the safety of other members of the community," Flowers said.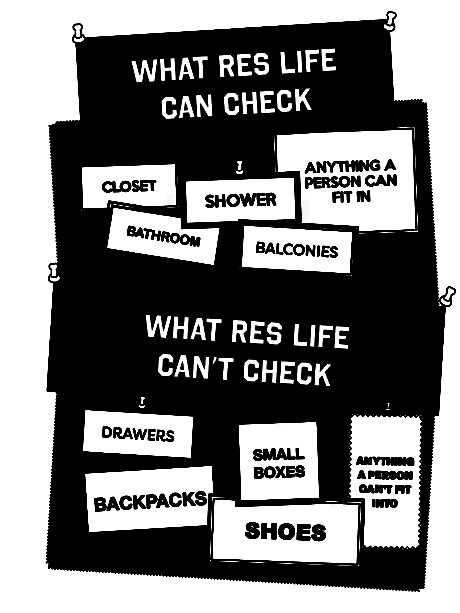 Leave a Comment