Last Friday, I stopped being a man. A huge influence to San Antonio culture is drag and drag culture, a way for individuals to express an identity different from their everyday one. So, I embraced this mentality and became someone radically different from myself, in the process learning more about myself and the greater LGBT population in the city.
Before I could don my pencil skirt or dramatic eyeshadow, I needed a better understanding of the culture. Amy Stone of the sociology department specializes in gender nonconformity, teaching a class which encourages students to develop a drag persona and watch cult classics like "The Adventures of Priscilla, Queen of the Desert." She invites actual drag queens and kings to class to discuss cosmetics. "Some of the stuff we read about gender nonconformity is really sad. I wanted something that was a little more playful about the fun and joy that comes with playing with gender," Stone said.
The idea for this class came out of her personal interests in the expression of self came this class, where Stone inserted some of her own personal experiences about drag. "I've gone to drag shows frequently," Stone said. After attending these shows and making friends with several performers, Stone began experimenting with the art form. "We'd have drag nights where we'd all go to dinner together in drag, or go to this thing called the drag closet where you can just put on drag for the night."
However, while we live in a culture that more visibly blurs the lines of traditional gender roles such as long hair on men, strict divisions still exist between male and female clothing, cross dressers and drag queens. "Some cross-dressers just want to wear average everyday women's clothes, whereas drag queens need glitter, really big eyelashes and an outfit that very few women would ever wear," Stone said.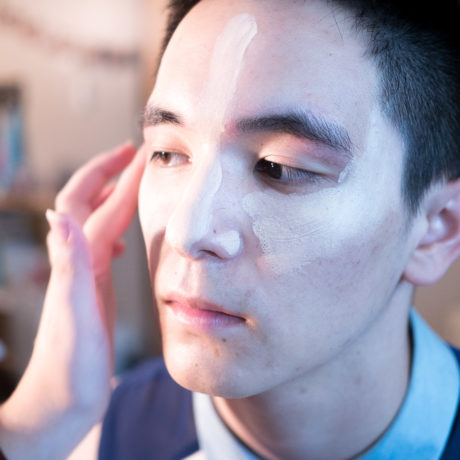 This issue carries with it so many minutiae that even the definition of drag isn't clearly defined.  "Drag [acts as] a performance art (e.g. it happens on stages, like theatre or dance) while cross-dressing need not be (e.g. one could cross-dress for the day in one's ordinary life)," said Andrew Kania, professor in the philosophy department.
Kania is no stranger himself to partaking in drag.  "I'm a rank amateur, but I cross-dress with my students whenever we do this exercise, and I've participated in a couple of Trinity drag shows," Kania said. While he noted that Trinity exceeds many institutions in terms of inclusiveness, there is still more work to be done.
After many years of involvement in student drag shows, Kania gave up his performance work in lieu of the classroom because of several unsightly experiences. "I observed many instances of homophobia (e.g. frat boys shouting fag at the performers)," Kania said.
Even in 2016, trying drag retained difficulties for a cisgender male like myself. Certain retailers refused to allow paying customers to try on bras just because they appeared male, there were no shoes made in my large size, and people even within a safe space such as Trinity glared at me with disgust. A see-through shirt, seafoam makeup and spiky Jessica Simpson shoes lack subtlety, yet so did the murderous looks or gawks given to me in passing.
This unwanted attraction developed a shame within me, a feeling that when I bought my skirt or walked to Coates to work on this story, something about me was inherently wrong. In an ironic sense of déjà  vu, I felt just as self-conscious walking around campus in drag as I did as an openly gay freshman at my all-male high school.
But sometimes, negative perceptions turned out to be just that. When I walked ,shaking, to the thrift store counter and purchased my first blouse, another shopper asked  to borrow it after the experiment and to own my outfit with pride. When I ducked into the P.O.D., too nervous to brave Mabee, the kind cashier complimented my outfit and asked to see my shoes because "[I] must be going out tonight."
This same kindness was shared in one of the hubs of queer life in San Antonio: Heat Nightclub. Heat embodies everything drag defines, expression of the self regardless of appearance or sexuality. Drawing big names in the drag world like Kim Chi and Naomi Smalls as well as local patrons, the staff, like bartender Eric, have learned a lot from being around the clientele.
"I've been in the strip for about a year," Eric said. He experienced firsthand the nightlife catered specifically as a haven for the gay community. "I've actually never worked in a gay club before working here. As a straight guy, it's definitely something new to see people in drag. But, the more I'm around it, the more comfortable I feel, and you stop seeing someone dressing up as a girl as much as you see another person."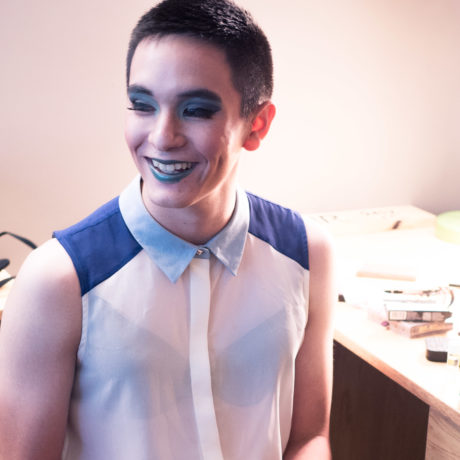 "Personally, I would believe San Antonio is accepting of drag culture. I've actually seen people in drag at the mall and here on the strip. I've seen a lot of straight people at Heat too, which shows how accepting it is," Eric said, concluding our encounter highlighting the prevalence of drag culture throughout the city.
It was at Heat where this affirming positive energy built to a climax and I felt a sense of belonging in my foreign clothing. Standing in front of drag queens lip-synching to save their lives, the makeup, which initially made me feel silly, helped me connect to these confident goddesses.
The next time I get dressed while listening to Beyoncé (which is everyday), I won't be straightening my long black wig or perfecting my wingtip eyeliner. What will remain is the newfound confidence I developed embracing my feminine identity as well as this microscopic but illuminating view into the society's overbearing enforcement of gender roles. San Antonio offers a multitude of places to express personal sexuality, and only through challenging our beliefs through extreme methods like drag can people like me become stronger advocates for equality.