Men's basketball shooting for SCAC championship in upcoming season
Following a long and productive off-season, the Trinity men's basketball season is almost here. On November 15th, the team will play their first game on the road versus the University of Texas at Dallas. The Tigers were able to finish strong last year, winning their last 4 of 6 games to close out the season. They hope to improve on the 10-16 record from last year, and have their sights set on a SCAC Championship.
With ten juniors and seniors returning to the roster, the Tigers' experience could be their biggest asset. These upperclassmen are hungry for a conference title and are optimistic that their hard work the last few months will pay off come game time. The heartbreaking quarterfinal loss to Centenary in last year's SCAC tournament has not been forgotten, with a score of 57-55. That loss has served to motivate the Tigers, with the returners on this team ready and willing to do everything in their power to ensure that they finish at the top of the SCAC, and receive an opportunity to play in the NCAA tournament.
One the Tiger's best offensive players last year was junior forward A.J. Pulliam, who is hoping to build on a standout season. Averaging 13.9 points per game, 4th in scoring among all SCAC players, he was able to play a major role in coach Cunningham's offensive scheme.  Born in Bryan, Texas, he was not just a force on offense, but he also grabbed a team high 7 rebounds on the three separate occasions. With a 50% field goal percentage, strong rebounding skills and an ability to hit from the three point range when necessary, Pulliam looks to be a major factor over the next few months.
"We've made several changes to our playing style this year both with offensive and defensive strategies, as well several players in roles they may not have expected coming into the year. I think this is going to be great for our team this year, but also makes it very hard to have strong expectations. Nonetheless, I'm positive we have the talent and are taking the right steps to win conference this year, which is always a huge focus for us coming into each year," Pulliam said.
Fellow upperclassman, junior forward Brian Blum, is poised for a big improvement as well. Blum is excited about this season and feels that the chemistry on this team will be conducive to achieving a winning record.
"[We're hoping] to continue improving as a team, for starters. We've got a group of guys who've been together for a couple of years now and it's exciting to see what we can do this year. We're a pretty tight knit group. Everyone's pretty committed to the same goals, and it shows on the court Hopefully that results in a conference championship and a little beyond, Blum said "
After 17 seasons at the helm, coach Pat Cunningham feels that this year's team could really accomplish something special. Although he was disappointed with the way last year went, he drew many positives from an otherwise seemingly down season.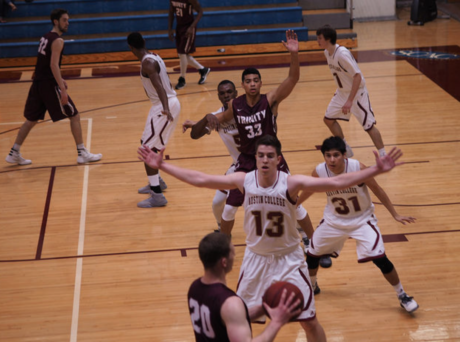 "The expectation every year is to win conference. That is what is going to put us in the tournament and allow us to compete for a championship. Every guy on the team has the mindset that we can beat anybody. Although last year was tough, each year you have a fresh set of guys that are just as hungry as the ones who played last year, and our mixture of upperclassmen and young guys is going to make for some great energy, Cunningham said"
This year's mix of newcomers and upperclassmen should offer plenty of highlights and great games. Look for them to bounce back from a disappointing season with a season sure to stacked full of intrigue.
Leave a Comment