Results of SGA referendum still unannounced
While the new officers for Trinity's Student Government Association (SGA) were announced Monday, Nov. 8, the results of the referendum on whether to pay the president and vice president a stipend of $250 per semester have yet to be disclosed.
Some candidates, such as Daniel Smith, a vice presidential candidate, and Manfred Wendt, a sophomore senator candidate, made keeping SGA unpaid a major part of their platform. Others thought it made little sense to campaign on this issue.
"They would have no more influence over it than if they were a normal student," said Joseph Khalaf, vice president elect of SGA.
Students who voted in this election also voted on whether to pay the president and vice president a $250 stipend each per semester. This adds up to $500 per term for each, or $1,000 total per year.
If the student vote comes back "Yes," no more than $1,000 will be taken from the Student Activity Fund per year to give stipends to the SGA president and vice president.
The ballot had separate questions for president and vice president, so students could choose to have one position be paid and the other remain unpaid.
"In my opinion, it is a good idea," Khalaf said of paying SGA. "A lot of people's concern with it is that people are going to do it for the wrong reasons if you pay SGA. In reality it's not that sizable of a stipend "" you could make more money doing something else."
There was some misunderstanding among candidates, and possibly among students, about the issue of paying SGA. Some were under the impression that the issue on the table dealt with whether all SGA positions would be be paid rather than just the president and vice president.
"I actually was misinformed," said Daniel Smith, a vice presidential candidate. "Because in student government, when you're reading the Trinitonian thing about paying student government, I was under the impression it was under the whole student government. And it wasn't until the actual ballot day where I realized they were just voting on vice president and president."
Smith felt that his misunderstanding stemmed from a communication failure.
"I did really try and look into it, and everything I read about it, all the opinions I heard, it just talked about paying student government. And if you say "˜paying student government,' that's a very vague statement," Smith said.
Smith changed his opinion upon speaking to members of the Trinity community and seeing the ballot. While he still believes that senator positions should remain unpaid, he sees no harm in a stipend for president and vice president.
"I think certainly for the lower level positions it's good to keep them unpaid, because maybe in the junior level there's a shortage of people running," Smith said. "But when you start adding up the money for all those people in the lower levels,  it's five per level times three, 15 people, that would add up pretty quick. And I think it's a lot less money for the students, or for the whole student body."
Khalaf, who was in favor of the stipend, explained that it would work as an incentive for more students to run for SGA.
"What it does do is it allows students that would normally be doing either an institutional or work study position, it would allow them to not have to do that, and dedicate that time to serving SGA," Khalaf said. "Because SGA is an enormous time commitment for president and vice president. In that regard, I think it would allow more people to be a candidate, and if it's more competitive, you're going to get better candidates elected."
Lizza Vallejo, current secretary of SGA, is in favor of stipends for all positions. She explained that SGA members from other universities are often paid, and were shocked to find out at a conference early this fall that Trinity's SGA was not paid.
"I know that once you get into this stuff you know what you're getting into, but I feel that when it comes to improving "" I feel that if SGA improves, a lot more things will improve," Vallejo said.
She explained that the student body would ultimately benefit from having a stipend as an incentive for students to seek SGA offices and be as effective as possible once they are there.
But the stipend is not necessarily a major concern for candidates and potential candidates. "The results haven't been released yet, but I'm assuming it's going to be no for the stipend. And I ran with the intention that I wouldn't get it. I'm doing this because I want to, not because of the stipend," Khalaf said.
Smith explained that a more important concern is raising the level of awareness among the student body of what is happening in SGA.
"I doubt that, even if it was a paid position, that they would really be any more aware of the position as something that could even be an option for them. So I don't really see how it would make that much of a difference, except for maybe a couple people who need the money to make it worth their time," Smith said.
The results of the referendum will tell what students have decided on the issue.
"I really don't think it is important to the majority [of students]," Khalaf said.  
For now, the question of whether SGA president and vice president will receive a stipend remains open. Current SGA president Brenna Hill explained in an email that there was a simple majority in favor of the stipend, but not a two-thirds supermajority.
"Since it does not state explicitly in the constitution what we need, we are waiting to consult with our advisors about how to proceed. We will release the results as soon as we know," Hill said.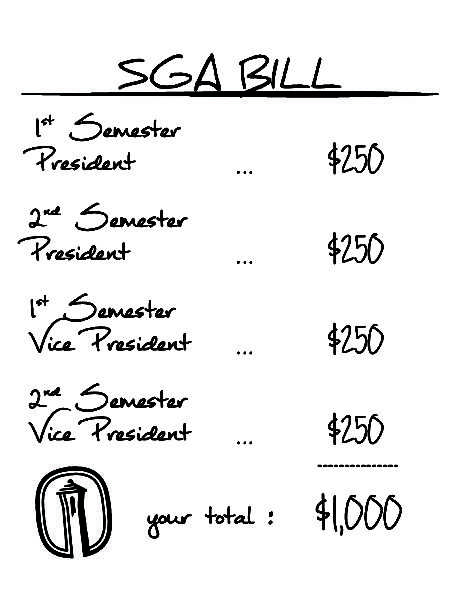 Leave a Comment