The William H. Bell Athletic Center has been undergoing various renovations since last December, including the addition of a new fitness center and the renovation of other areas of the Bell Center that needed to be updated. The university's athletic staff is excited for students to see and to benefit from the changes that will soon be available to them.
"We have several different fronts going on," said Bob King, director of athletics. "The fitness center is a two-story cardio strength area, and on the weekend, it will have card access from the Bell Center lobby so you don't have to go into a different entrance. That's going to be the facility that handles most of campus-wide recreation. We think most of the campus "" students, faculty and staff "" will use that facility because it's very general, and it's got a lot of great new equipment in it."
Out of all the renovation projects, King is most excited about the new fitness center, which will be an all-glass facility measuring 8,000 square feet.
"That is sort of the crown jewel," King said. "When we started this project, we wanted to make sure that we address campus-wide fitness issues first and foremost."
Even though the athletic staff is most excited about the new fitness center, they are also looking forward to the changes being made in the Bell Center's existing spaces.
"We took out five racquetball courts because that sport is really not very active anymore, and we made it what we're calling the Sports Performance Center," King said. "That is an area that has specialized strength equipment. Even though we're going to make some hours available to everyone on campus, it's probably not where everybody will end up being when it's all said and done. It will really help us with our student athletes and strength conditioning, but also with injuries and rehab. Throughout the building we renovated locker room space to help with all the teams that are coming in."
The Bell Center is able to undergo changes due to $14.2 million of donated money.
"We first started talking about this in 2007, so that's 10 years later that we're finally doing it," said Seth Asbury, associate director of athletics for facilities and event management. "When you think of the second-floor fitness center that we used to have, and then the first-floor weight room that we used to have "" basically we're combining those two rooms in the fitness center. We're basically doubling the space, so now we're going to be able to offer more pieces of equipment as well. We're going to have 24 cardio-fitness pieces with high-definition displays on them. You can sign into your Netflix account and watch a movie while you're riding a bike."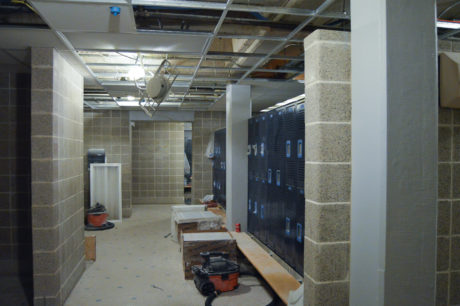 There will also be a multi-purpose room in the new fitness center. Asbury believes that the multi-purpose room will alleviate some of the traffic that is currently in the Stieren Dance Studio and possibly serve as a space for new fitness classes.
"When you take those two pieces, the weight room and the cardio room we had, and take them over here to the new fitness center, we're still adding space," said Sharon Jones Schweitzer, assistant vice president for external relations.
King believes that the new fitness center is going to become a hub for the Trinity community to work out, study and hang out.
"We really want students to use this and to be here all the hours that we're going to be open," King said.
The Bell Center renovations are a portion of Trinity's new master plan.
"The renovations also support initiatives within the Trinity Tomorrow strategic plan, to support a holistic experience for students which includes wellness and recreation as well as supporting intercollegiate athletics at Trinity," Schweitzer said.
Trinity's athletic staff are excited about the changes to the Bell Center and appreciate the patience that the community continues to show them.
"We want everyone to know that we tried to build a facility for everyone to enjoy, that will feel friendly and safe," King said. "We think we're achieving that. That's our goal."
Some locker room updates in the Bell Center have already been completed, along with simple changes such as new carpeting, new paint and new LED lighting. Other renovations are currently going as scheduled and should be wrapping up sometime during the 2018 spring semester.