Barbaloots, Dr. Seuss' friendly tree-dwellers, have been a part of our pop culture for decades. Now it's time to become familiar with the half-Trinity, all-San Antonio indie rock band that named itself after the cute bear-like creatures.
"I'm afraid we're going to get sued," said Dominic Walsh, drummer for the band.
Based in San Antonio, the Barbaloots' sound can be compared to bands like Pavement, an alternative-rock group from the 1990s, and modern alternative bands like Real Estate, a New Jersey-based indie band.
Two of the four-man band are Trinity students: drummer Dominic Walsh, a sophomore computer science major, and singer/songwriter/guitarist John Morgan, a senior music major.
Both born and raised in San Antonio, they grew up listening to rock-pop sounds like the Beatles.
"My mom put on the radio a lot while we were driving around, so I got into a lot of pop. Sometimes it's not the best music on the radio, but when there is something decent "¦ I'd check the person out," said Morgan, who is currently interning at KRTU Indie radio.
They both picked up instruments during middle school. Walsh began playing drums for his school's jazz ensemble; Morgan saved his money up, went to a pawn shop and bought a guitar to teach himself. Walsh continued drumming for jazz ensemble throughout high school and is hoping to audition for the ensemble here at Trinity. During his junior year of high school, he also began drumming for a band named 16Pysche. Morgan spent his high school years playing bass, guitar, piano and singing for two bands: March of the Mind and Sioux & Fox.
The two did not know each other personally until their bands played a show together, and from there they managed to keep in touch.
"We both didn't have shoes on and had our toe nails painted," Morgan said. That's when they knew it was meant to be.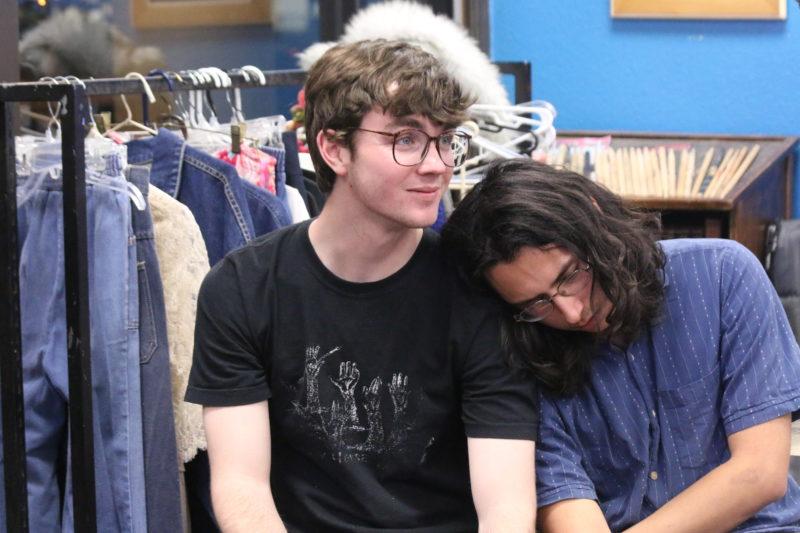 But Morgan went off to college at Trinity, joined Sioux & Fox and recorded an EP with them. During his sophomore year, he went on an independent path and began working on a solo project using his Thomas dorm room as a studio.
"It was during quiet hours, so people always got mad at him," Walsh said.
The name of Morgan's EP was, fittingly, "Quiet Hours". He then created a second solo EP his junior year, titled "McLean", which he recorded in his McLean dorm room.
It was during his junior year that Morgan started the Barbaloots. Walsh did not join the band until after a few friendly jam sessions.
"The summer after my senior year of high school "¦ my friend Sean asked me if I'd be interested in playing drums for the Barbaloots," Walsh said.
Now, they have have a single called "Started" that can be found on their Facebook page, which has over 200 likes, as well as on Bandcamp. They do not have any upcoming concerts in San Antonio, but they've already booked a week-long California tour in November, where they will play several venues with another San Antonio-based band called Elnuh, for which Dominic also plays the drums.
In the future, they hope to sign with a record label, but as of now they are focused expanding their fan base. They hope the release of a new EP, named "Chill The F#ck Out" in honor of the band's favorite phrase, will help. They've been recording at the home studio of Daniel Puente, a former bandmate of Morgan's, who helps them mix and produce their music.
Fortunately for them, the independent music community is growing in San Antonio, so there is hope for the Barbaloots to become better known.
"When I first joined it, people told me it was starting to grow," Walsh said.
Yet as the scene grows, Morgan is getting ready to graduate, while Dominic still has two years of college ahead of him. The band plans to still jam.
"I'm not going to stop making music," Morgan said.