Whether students have been personally affected by Hurricane Harvey, or know of a friend, classmate or teammate that has been affected, it's very clear that the disaster has caused a great deal of heartache and grief across the Trinity University campus. Despite the distress this event has caused, many Trinity students have taken this opportunity to do their part and help those in need.
On Saturday, Sept. 2, the Trinity University men's tennis team made a trip to Aransas Pass to help clean up areas that had been affected by Hurricane Harvey. With the assistance of the River City Community Church and Trinity Oaks, a non-profit organization that uses outdoor recreation to give back to the area, the team aided in alleviating some of the destruction caused by the storm.
"I had been planning to incorporate a community service project into the very beginning of our season this year, so that was already on my mind," said head coach Russell McMindes.
McMindes is part of River City Community Church, which reached out to him confirming that he could plan a relief trip to Aransas Pass.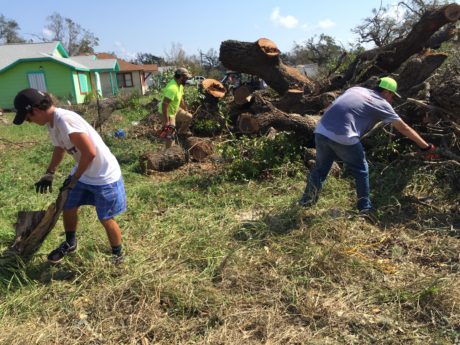 "When the hurricane hit, I just couldn't shake the feeling that this was the opportunity we needed to take advantage of," McMindes said.
McMindes launched the effort, aided by his tie to San Antonio's River City Community Church. The 16 team members loaded up a van at 4:15 a.m. and embarked on the 165-mile journey toward Aransas Pass.
"It was great helping people who needed help, even if the work was strenuous," said McKenna Fujitani, a sophomore from Honolulu.  "Everyone on our team donated supplies that we brought down."
Once they arrived, the team began to clean alongside other volunteers. The debris was awful "" there were trees that had been uprooted and houses that had been destroyed.
"We went to people's houses to help them clear all of the debris from their properties "¦ chainsaws, fence cutters and Bobcat [skid loaders] had to be used to clear the destroyed trees," Fujitani said.
The team was divided into work crews led by the church, and they hauled away trees that had been blown down.
The Tigers had to get consent from homeowners before providing a helping hand, but residents of the area were beyond thankful for their assistance. The team also helped move supplies in and out of the local church.
"It was a really good experience for me because I had never done any charity like that before," said Tilden Oliver, a junior communication major. "It allowed me to see what it's like for people who have a lot less than me. The people we were helping out were all on welfare and some of their houses were partly destroyed. It was a lot of work and exhausting, but the whole time I was happy that I was making a difference. The event just gave me a lot of perspective on what we have compared to the majority of the world."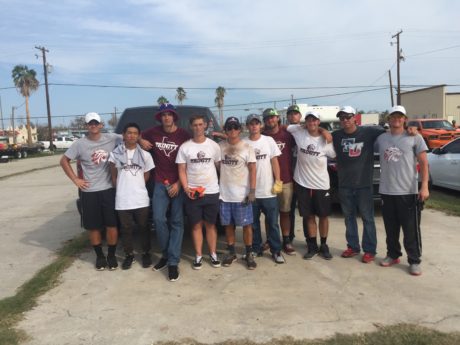 "It was a very moving experience for sure," McMindes said. "We talked about how rough the day was and how bad the mosquitoes were. But then we discussed how at least we got to drive home, sleep in air conditioning, take a warm shower. The people we helped were stuck in the middle of it."
McMindes and the rest of the men's tennis team want to show appreciation and thanks to River City Community Church and Trinity Oaks for allowing them to join their relief efforts.
"These are some incredible people who know what it means to serve others," McMindes said.
The men's tennis team wasn't the only group to reach out to those in need. At the Trinity National Invitational on Sept. 1″"2, the volleyball team collected donations that would go to the San Antonio Food Bank and Texas Diaper Bank. The team raised over $500 for the cause.
Quin Patterson, Trinity's equipment manager, put together a box of t-shirts and sweatpants and sent them to the University of Houston. Coaches from all teams came together and donated what they could. The women's golf team created a fundraiser in which they are allowing friends, family and fans to make pledges for each of the birdies they make at their fall tournaments.
Hurricane Irma has already began to wreak havoc across the southeastern United States, and the storm is expected to be just as deadly as Harvey. Keep an eye out for more opportunities on campus to help victims of the next storm.