Trinity rugby team looking for action
After doubling the size of their team, the Trinity University rugby team is looking to bring the intensity to the field this year.
The club sport is not widely known around campus. In fact, if you're unfamiliar with the sport most popular in the former English colonies, it can be hard to differentiate from American football.
"You wear no gear, just a mouthpiece. When you get tackled, you gotta keep going. There's no stopping once the ball hits the ground," said Damian Sambrano, vice president of the rugby team.
Rugby is also known for having more action and intensity in their games than football.
"I'd say the main difference is that in football, it's often stop and start. But rugby is more like soccer, where there's continuous play and there's no down time in between things happening. It's constant action," said Dayton Ames, president of the rugby team. "It has everything that all sports have. You have to kick the ball, like you would in soccer. You hit people. You jump for the ball, like you would in basketball. It combines a lot of different aspects of sports. I think a lot of people would gravitate towards it, but it's just not very widely advertised here in America. I think it has everything that Americans love about sports."
Ames played football at Trinity for two years before joining the rugby team. He now steers the team with Sambrano, and is working to restructure the team for the 2017""2018 season.
"We just about doubled our team from last year, which is pretty awesome," Sambrano said.
The rugby team added about 20 new members this year. This influx of players is helpful for them in building a "˜Fifteens' team, where they have teams of 15 players against one another, playing 40-minute halves. Trinity's team plays Fifteens in the fall and winter, and "˜Sevens,' a faster-paced version with a more selective team, in the spring and summer. While the team hasn't made an official schedule for home and away games yet, they hope to play many of the 13 rugby teams in their conference, such as Abilene Christian University, University of Texas at San Antonio (UTSA), Sam Houston State University, Rice University and more.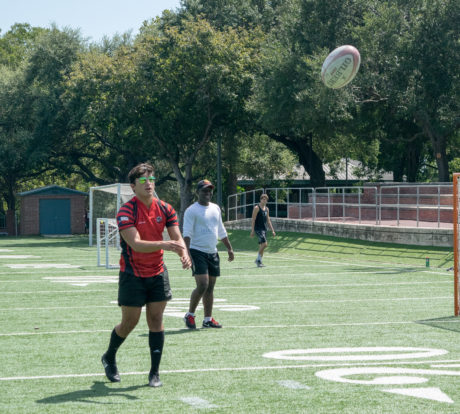 However, they couldn't do all of this on their own. Trinity's rugby team is able to receive coaching through their partnership with the San Antonio Rugby Football Club.
"They've helped us get our start and they provided us coaching last semester," said Austin Gieselman, treasurer of the rugby team. "They're continuing that this semester, and in turn, some of us go and play over there So it's just several guys who are our coaches are players for the San Antonio rugby club and they come and help us out, totally on their own will. They help us out tremendously."
Anyone looking to get into rugby should know that the team culture is something unique.
"It's extremely tight-knit. And although it's not as popular as maybe soccer worldwide, the fans in rugby are just about as crazy, die-hard as they come," Gieselman said. "I've experienced it firsthand. No matter where you are in the world, if you play rugby and you meet another rugby player, you instantly have that connection and you're just buddy-buddy. When I was studying abroad in Japan this summer, I played on a team at the university and I could not understand anything that they were saying. But when I was like, "˜Rugby!', they were like, "˜Yes! Yes! Yes!'"
The rugby team is planning to play their first big home game mid-November, and they want to see as many Trinity students out there as possible. They don't have a date set yet, but watch out for flyers and advertisements around campus as November nears. Even if you have no idea what rugby is or have never seen a game, stop by for a bit to support your Tigers. You just might like what you see.
Leave a Comment