As in past years, rumors concerning large numbers of students being placed on academic probation have arisen. As a new semester rolls around, Trinity has rolled out several strategies in an attempt to lower this number of students and to maintain that low number in the future.
"Academic probation is a policy that has been adopted by the faculty and administration here that is meant to encourage student process towards a four-year degree. The standards that are in place to remain in good academic standing assume a student will complete a degree in four years with a GPA above 2.0," said Michael Soto, vice president for academic affairs and for student academic issues and retention. "The policy was put in place as a result of our commitment to faculty governance. That typically means that changes to a policy will go through one of the faculty senates or university's committees that will be brought forward to the entire faculty assembly, which will then be voted on, approved by the president and formally endorsed by the Board of Trustees."
This semester, 41 students are currently on academic probation. If individuals have this status for more than two semesters, they could face temporary dismissal and will have to reapply to Trinity. The university has been pushing forward with additional academic policies over the past few years, including the Quality Enhancement Plan (QEP).
"The Quality Enhancement Plan, which bears the title "˜Starting Strong,' is a comprehensive university effort to improve the experience and academic performance of first-year students at Trinity," Soto said. "It's part of the university's larger efforts toward reaffirmation of accreditation, which is a process that happens every ten years, when our accrediting body, the Southern Association of Colleges and School, will request a very comprehensive report from us and require a quality enhancement plan."
While the QEP has not yet been completed, it will go into effect next year. After its start date, the plan will be laid out over the next five years and will involve strategies geared towards raising student's overall academic success. These measures will look directly at first-year's grades, as last year averages had been low.
According to the QEP updates website, "Almost one-third of our first-year students receive deficient grades … 40 percent of those deficient grades are a "˜F' … Over 6 percent of our first-year students earned a GPA below a 2.0 after their first semester."
Soto pointed out, however, that this plan was not created in response to the number of students on academic probation.
"I don't think it's a direct response to the number of sophomores on academic probation, it's a response to some on-campus soul-searching," Soto said. "Although we're doing well, we could be doing better, and we think that we'll have a very lasting positive impact on all campus at Trinity if we serve our first-years very well."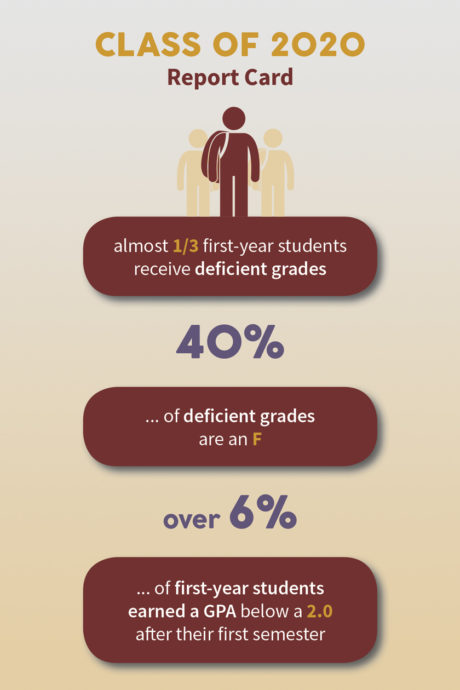 In addition to Starting Strong, the administration reported several other measures to the Southern Association of Colleges and Schools: the creation of the Student Success Center, the progress of the Student Success Team "" which includes a number of high-ranking university officials including Sheryl Tynes, vice president for student life, and David Tuttle, dean of students "" and changes to staff across several programs were all mentioned in the report. Trinity also hopes to pursue an academic analytics system to do this more efficiently.
According to the report, "As part of the QEP, the University is presently exploring a number of academic analytics systems that will provide real-time support for advising, teaching, and student success efforts, all with the goal of improving student completion rates."
However, as a whole, Trinity's graduating classes are still strong, as they compare well to both national averages and other smaller private schools similar to Trinity.
"We do quite well against national averages," Soto said. "We want to admit the most academically qualified student body possible so that we can provide the students who are already here the best possible undergraduate experience."