Organizations host debate about immigration reform
The Trinity University Forensics Society and The Contemporary, a student-run public affairs journal, co-hosted a public debate last Wednesday in which students debated different stances on immigration reform.
Two teams of two students each were involved in the debate. Isaiah Mitchell and Maddie D'iorio represented Tigers for Liberty, and Travis Boyd and Catherine Walters represented Trinity Progressives.
William Mosley-Jensen, assistant professor and director of debate, explained how the debate came about.
"The Trinity University Forensics Society (TUFS), which is the student organization that the debate team is affiliated with, kind of generated this idea to do the debate," Mosley-Jensen said. "I think that having a public debate really can provide different perspectives on an issue that is easily politicized. It's easy to have a passionate, perhaps ingrained view on immigration, that we learn from our families or the media. One of the things that [debate] does is provide an avenue for an objective, civil dialogue where there are two different sides to an issue."
Mosley-Jensen hopes that students at the debate were able to gain a greater understanding of ideas related to immigration.
"Immigration issues are complex and not always subject to a simple answer," Mosley-Jensen said. "There are real people involved, too. DACA and other immigration reform policies are very close to home here in San Antonio. A lot of the people watching or participating probably know people who are subject to DACA. Having a vital, civil discourse on campus is one of the things that I think is really important for politics, especially now in our current, contemporary political environment. I think debate provides us with an avenue and an opportunity to engage issues in a well-researched and civil manner."
Mitchell, a sophomore English and Latin double major, was excited to be able to have a public debate about immigration reform.
"I'm on the debate team, and I'm the only one on the debate team who's in Tigers for Liberty (TFL), of which I'm co-president," Mitchell said. "We've been bouncing around the idea of public debates on campus where students can have these debates in a setting that's conducive to it "" unemotional, but still friendly. There's been a lot of enthusiasm from TFL and from the Trinity debate team for a while."
Mitchell explained that the debate team felt it deeply important to address relevant issues and that his goal was to shed light on the conservative position.
"Our main goal is really to showcase what we feel is a misunderstood position," Mitchell said. "There's diversity on the right. We're trying to demonstrate that our position is not racially motivated or xenophobic, but just motivated by the rule of law and safety and concern for citizens. It's not necessarily new in terms of ideology, but it will be new to a lot of people on this campus."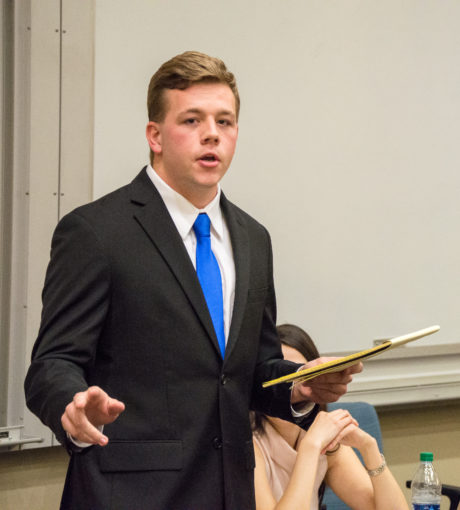 Mitchell hoped that people came away from the debate with more respect for the intellectual ideals of conservative positions on immigration and viewed them as policy-based arguments.
Walters, a senior political science major, was one of the representatives for Trinity Progressives in the debate. She reflected on the debate a few days after it took place.
"There was a great turnout and everyone in the audience was fairly engaged with the discussion," Walters wrote in an email interview. "Both sides came with well-formed and focused arguments.  Each debate partner really brought different skills to the debate."
Walters was excited to see the amount of student interest, especially during the question and answer session at the end of the debate.
"Towards the end of the debate, it appeared as though more people wanted to further discuss the issue," Walters wrote. "Immigration is an incredibly complex issue, so we did not have sufficient time to completely cover the entire topic. For that reason, I would love to continue this discussion in later Trinity Progressive events on campus. I hope that students left understanding the complexity of the immigration issue."
Mitchell and Walters both expressed hope for similar discussions to take place in the future.
Leave a Comment