New student organization hopes to bring TEDx to campus
Sophomore Rohan Walawalker convened the TEDxTrinityUniversity Student Programming Committee's first-ever meeting on Sept. 25. He hopes to coordinate a TEDx conference at Trinity University.
TED is a international media organization known chiefly for "˜TED Talks,' lectures by acclaimed speakers published online for free distribution. The main TED conference is held annually in Vancouver, British Columbia, but "˜TEDx' events can be organized by anyone as long as they agree to follow certain principles, including the absence of a religious, political or commercial agenda. Attendance at TEDxTrinityUniversity events will also be limited to 100 people, per TED guidelines.
Walawalkar described his plan for TEDxTrinityUniversity to the Trinitonian. He wants to focus on connecting Trinity to a global community by bringing speakers to campus via TEDx.
"Organizing a TEDx event on this campus would allow this community to connect with the Global TED community of ideas and engage in a mutually beneficial back and forth of ideas. The ideas in TED talks have really changed my life and continue to do so. I want to see their transformative power with my community, and see it change for the better," Walawalkar wrote in an email interview.
Walawalkar wrote of his plan for the for TEDxTrinityUniversity. He wants to focus on connecting Trinity to a global community through the speakers brought to campus through TEDx.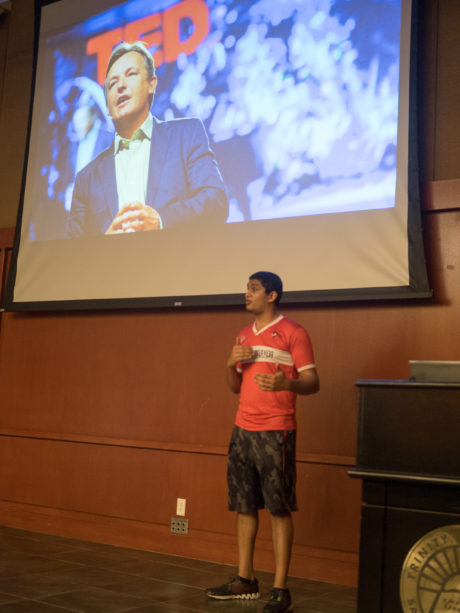 "I aim to hold a TEDx event at least every year at the beginning of the school year, and some smaller-scale events through the rest of the year. Just how many events we can hold will depend on university resources and student availability. Though we're dreaming big right now, event frequency will be based on the availability of the students helping organize these events," Walawalkar wrote.
Thus far, the project has been spearheaded entirely by students, but Walawalkar wants to involve the entire campus.
"I really want this organization to be a campus-wide effort, and I think it already is. We are currently in the process of training officers and setting up the foundation of the organization, but already, everyone is really excited for the organization's potential. We hope that this organization can enhance the Trinity University experience and have a true positive impact on our student body," Walawalkar wrote.
Walawalkar's team shares his excitement for the project. First-year Andrea Cruz is one of the students planning on taking a role in the committee.
"I want to be involved with TEDxTrinityUniversity because I'm interested in the knowledge that speakers for TEDx events have to offer," Cruz wrote in an email interview. "TEDx events have themes to abide by which doesn't allow for a speaker to cater to a specific topic or subject. Because of this, the holistic messages that are taught through talks, I think, have always been of massive interest because of their applicability to life, school and otherwise. To be a part of TEDxTrinityUniversity would not only be a huge opportunity but a huge honor as well."
Cruz says that students should be excited about TED on campus.
"Students should be excited to have geniuses on campus giving talks that are more than likely to apply to their own life. Whether it be for pure entertainment or to learn something new, TEDx events and TED talks in general have a lot to offer as long as students are willing to listen," Cruz wrote.
First-year Yian Xu is also involved, hoping to take a role in the organization as a speaker coordinator.
"As a college student, we focus a lot on classes and spend bunch of time on campus, which gives us very few opportunities to meet with people from the real world and learn from them," Xu wrote in an email interview. "However, as TEDxTrinity is established, we want to bring in speakers from all kinds of fields "" not just about academy but also about real life. Therefore, TEDxTrinity will give everyone a great chance to know about people, learn from their talks and probably communicate with them in person."
Walawalkar wants to encourage students to be involved in TEDxTrinityUniversity through joining the programming committee or through attending or volunteering at their events.
"I am ecstatic that TEDxTrinityUniversity has received the support that it has in its current stage of development. The response so far has been very positive. Students, faculty and staff that I have spoken to seem excited at the opportunity of connecting with the global community through a TEDx event," Walawalkar wrote. "We will be announcing the date for our first event very soon."
For any questions about the initiative, email Walawalkar at [email protected]
Leave a Comment