Tuttle hosts annual dinner for BSU
David Tuttle, dean of students, held a dinner for Trinity's Black Student Union (BSU) at his house on Sept. 26.
Tuttle has been holding annual dinners for BSU for the past few years. Tuttle elaborated on the importance of holding administrative dinners such as these.
"It's a good population to touch base with as an administrator and as the dean of students, to find out about their experience at Trinity," Tuttle said. "A lot of times you'll see a pattern on a campus where an incident happens, and then there's this reaction, and then there's a program. Having communication channels when there is not a prominent incident is important. Sometimes it's humbling, and sometimes it's not stuff I necessarily want to hear, but that's why you do it. These are very real thoughts, real feelings and real issues that the students are facing."
Tuttle feels that progress has been made after past dinners with BSU and other student groups.
"Last year with TULA [Trinity University Latino Association], they raised the issue that many of them had parents who didn't speak English, so coming to orientation didn't feel welcoming to them," Tuttle said. "So that spawned the idea that we should do a special luncheon during orientation for our Latino students and their families and include Spanish-speaking faculty and staff, including our own president. So once you start down that road, we decided we should do the same thing for our African-American students and their families."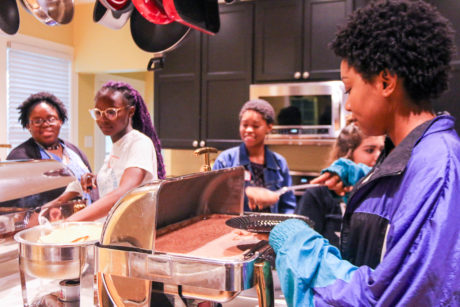 Stacy Davidson, faculty advisor for BSU, explained the importance of this dinner from her perspective.
"I believe it is important for these dinners to take place so administrators can hear firsthand about the experiences of African-American students on Trinity's campus," Davidson wrote in an email interview. "They were able to communicate what that experience is like for them, help him to understand what is unique about that experience. I enjoyed listening to the students share their experiences and express themselves with someone who can have a positive impact on their experiences as students."
Khaniya Russell, sophomore history major, attended Tuttle's BSU dinner for the first time this year.
"At dinner we discussed how members of BSU felt as African-American students on Trinity's campus," Russell wrote in an email interview. "The discussion encompassed professor-student relationships, the relationship we hope to develop with dean Tuttle, and a more widespread form of outreach on our organization's part. In the past, we have felt a disproportionate lack of support from administration when things that affect our community occur. Dean Tuttle graciously listened to our grievances and provided us with realistic, tangible goals of his to fill that void and provide us with a more consistent source of support."
Russell expressed her hope and belief that Tuttle was receptive to hearing about times administration has failed in the past.    
"I learned that dean Tuttle is willing to be a valuable ally to our organization now that we have discussed ways in which he can serve as a partner to us in our endeavors both as a cultural organization and as students of color attending a PWI [predominantly white institution]," Russell wrote. "After the dinner, I truly believe we, on both sides, seek to develop and strengthen the relationship between administration and students of color on campus."  
Tuttle discussed the possibility of starting some kind of dialogue about racial and social justice issues.
"We will probably try to do [this] as time permits, probably as a series and probably starting sometime this fall," Tuttle said. "I think that one of the things that our students crave is not just having speakers come in and telling them what to think, and not just having faculty-facilitated discussions. They want student-to-student conversations."
Tuttle also mentioned other ideas that would allow future progress to be made on campus.
"Not just myself, but others have had interest in creating a multicultural lounge on campus, so we're looking at that and hoping that next year we'll have a space in the Coates center that is really a safe haven for people to go into and will hopefully be adjacent to wherever our new director of diversity and inclusion is," Tuttle said. "We have to open our eyes to the experience of our students and their families, and if we express diversity as a value we have to do tangible things to show that we're going to help the best that we can to make that happen."
More information about Trinity University Black Student Union can be found on the group's Facebook page. BSU can be reached at [email protected].
Leave a Comment