Tiger volleyball has been destroying their opponents for the last few tournaments, earning them the No. 3 rank in the country.
While the Tigers fell to No. 2-ranked Colorado College this past weekend, they crushed other opponents, including Austin College, University of Dallas and Centenary College, making them 16-3 in their season, and 4-0 in the Southern Collegiate Athletic Conference.
"They're doing really well; I'm really proud of them. It's a fun group, a really athletic and a relatively young group, so that's exciting," said Julie Jenkins, volleyball coach. "Every weekend we're either playing a ranked team outside of our conference or a ranked team in our conference, so there's no weekend where they can relax. And that kind of makes it fun, our players know you have to really push hard throughout the week to get ready for that weekend."
Tiger volleyball faces a new challenge this year that's different from before: For the first time in NCAA history, the SCAC has multiple teams that are ranked in the top five in the nation. These other SCAC teams include Southwestern University and Colorado College, which are ranked No. 5 and No. 2, respectively.
"It's historical to have three conference teams in the top five in the nation," Jenkins said.
The volleyball players are looking forward to continuing their wave of success.
"I'm very excited about how successful this season has been for us, especially since this is my senior year. It's awesome how every single team member contributes to our success in a huge way. I look forward to every game, but I'm especially looking forward to the conference tournament, where we will hopefully win another conference championship," said Kirby Smith, senior outside hitter.
Smith was just awarded SCAC Volleyball Defensive Player of the Week, as she helped lead her team to success this past weekend at the SCAC Cross-Divisional Tournament.
The Tigers enjoy the close bond they have as teammates.
"Day in and day out, I honestly just look forward to playing the sport I love next to the people I love. I am thrilled about everything we've achieved so far, we are getting better each day and plan to reach even greater success deeper in the season," said Amelia Roden, junior setter.
Jenkins was also awarded last week for becoming the first coach in any sport to win her 300th SCAC match. After 33 years of coaching volleyball at Trinity, Jenkins credits these wins to talented players.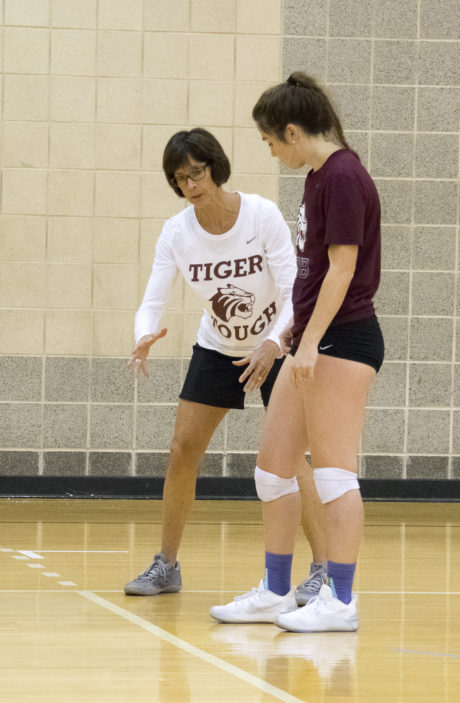 "The number one reason I do this is because I love coaching student athletes and seeing their confidence grow from their freshman year to their senior year. That's what's so much fun, the personalities of your team are different every year.  And obviously I'm super competitive and getting to play a tough schedule not only in our conference but outside of our conference," Jenkins said.
The players appreciate Jenkins' support to guide them towards success.
"I think it's amazing that coach got this award. It made me feel even luckier to have her has my coach and I definitely think she deserves it. I'm really happy that our team is so successful this season and I'm excited to see what we can do in the next half of the season, because our success motivates us to work even harder," said Sarah Mullens, junior defensive setter.
As Alumni Weekend approaches, the team expects a challenging weekend full of tournaments. In addition, the players and coach will get the chance to reunite with former players.
"I've seen a lot of great players over the years, so it makes me smile thinking about it. That's why you coach, you love the relationships you build with your players. Alumni Weekend, we've got a big volleyball social planned for our volleyball alumni. It'll be great seeing a lot of those players who contributed to those 300 wins," Jenkins said.
The Tigers mentioned that they always appreciate the support of the Trinity student body and hope to see more familiar faces in the stands.
"The Trinity community should know that we love representing them and appreciate their support at our home games," Smith said.
The Tiger volleyball team wants Trinity's support at their upcoming home tournaments: Alumni Weekend, Oct. 13″"14, as well as the Trinity Texas Classic tournament on Oct. 27″"28. Head down to the Calgaard Gymnasium and watch your nationally ranked Tigers.