The regional government of Catalonia, Spain "" which includes the city of Barcelona "" held a referendum on Oct. 1 to declare independence from Spain. Trinity students studying abroad in Madrid have witnessed the country become increasingly divided; this move was another step in the long history of the Catalonian separation movement.
IES Abroad, which facilitates the abroad program, has told American students to avoid areas where protests are being held, including central parts of Madrid, due to the threat of police violence.
Economic unrest following the 2008 financial crisis left many Catalans feeling unequally burdened, as Catalonia accounts for roughly 20 percent of Spain's gross domestic product. The vote was deemed illegal under the Spanish constitution by Spain's central government, which has caused mass protests across the country, including large demonstrations in Madrid. Protests in Catalonia were primarily in favor of separation, while demonstrations in the rest of Spain were mostly against it.
Katsuo Nishikawa, director of the Center for International Engagement, commented on the decision to urge students to stay away from demonstrations.
"I understand students wanting to be a part of history; I was just about to go to university when the Berlin Wall fell. I would have loved to have been there and taken part, so I understand the drive some students may have," Nishikawa wrote in an email interview. "But ultimately, we have to find a balance between the urge to experience this moment and student safety."
While Trinity students studying in Spain have undoubtedly noticed the political unrest, they say their lives haven't changed too drastically. Hunter Sosby, junior political science and communication double major currently in Madrid, commented on his experience.
"I knew that Catalonia was an independent region with its own language and culture, and I knew that they had separatist tendencies, but I had no idea that I was arriving here at such a crucial moment in their history," Sosby wrote in an email interview. "Here in Madrid, the demonstrations haven't affected me too much. There have been a lot of pro-Spain "" anti-Catalan independence "" demonstrations, but they haven't affected my day-to-day life."
However, Sosby canceled a trip he had planned to Barcelona, the Catalonian capital, due to the unrest.
"I was forced to cancel my trip to Barcelona. After the referendum vote on Oct. 1, the situation got pretty bad. There were lots of protests, strikes throughout the city, including museums and public transportation, and a lot of uncertainty of what is to come," Sosby wrote. "But, while I lost my weekend trip, Spaniards feel like they're losing their country."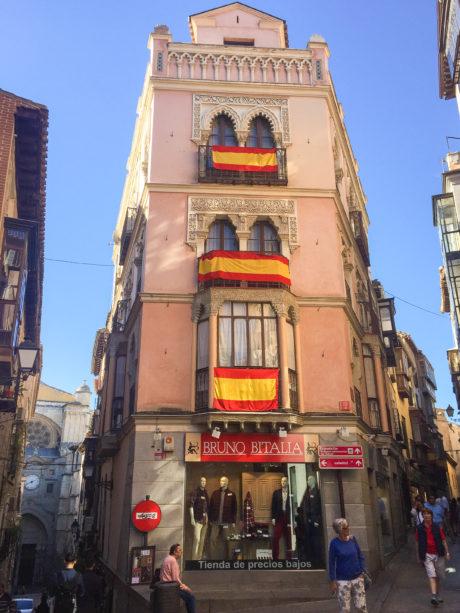 Sosby also wrote that while the country is divided, the overall attitude in Madrid is not.
"Everyone here, especially adults "" students tend to not be as bad about this, in my personal experience, at least "" is quick to mention that the Oct. 1 referendum was illegal, that Catalonia has never been a "˜real' independent country as they claim, that they exaggerated the number of people injured on Oct. 1, and even that the Catalan school system has lied in its history books. I've even heard that the violence against voters on Oct. 1 by national police was justified. It's very hard to find someone who sympathizes with the Catalan desire for independence," Sosby wrote.
Sosby wrote that witnessing another country in unrest has given him a new perspective on America.
"To be honest, I've been shocked about the lack of objective opinions here. I think, in the United States, we prize the objectivity of journalism, but … even the newspapers here have taken very explicit sides on the issue," Sosby wrote.
Bladmir Ruiz, associate professor in the modern languages and literature department, is on the Trinity in Spain trip. In an email interview, he described how he sees the unrest affecting students.
"The impact has been more academic since we have had to include what is going on in our curriculum. We must responsibly, respectfully and analytically process the very important historic moment we are witnessing," Ruiz wrote. "My role have been one that tries to present both perspectives in play, to make them respectful of both positions, to invite them to listen carefully to what people are saying and to read newspapers from both here in Madrid and in Barcelona. But also I have made clear that they are not to participate in any public demonstration and to avoid traveling to Barcelona while this situation is going on," Ruiz wrote.
Ruiz provided evidence for how the political upheaval, while upsetting, is a source of learning and perspective for Trinity students.
"On the other hand, our students are going through a much more complex and rich experience by witnessing what happens when nationalism and lack of real political dialogue becomes out of hand and creates this much bigger conflict we are experiencing in Spain," Ruiz wrote. "And it is important they understand that there are many Spains in Spain. And since one of the main intellectual dynamics that is triggered when we live abroad is to compare our new reality with the one we left behind, our students have the unique opportunity to see home with different eyes. And they are also aware that there are many US's in the US and that our country is also going through changes, conflicts, tensions and divisions that have a lot of common with what they see and feel here in Spain."
Nishikawa also commented on the importance of gaining perspective through studying abroad.
"The big takeaway for me is the importance of study abroad. Think of it this way: The world is a big and interesting place, and because this year we happen to have a cohort of Trinity students and faculty in Spain, we get to see first-hand, via our social media, people in our community at the front row of an interesting historical moment," Nishikawa wrote.
Sosby concluded that his time in Madrid has been unexpectedly eventful, but also valuable.
"I think all of us here from Trinity have, as a group, made a conscious effort to understand what is happening and the importance of this issue," Sosby wrote. "Everywhere you go here in Madrid you'll see the Spanish flag hanging off balconies. I don't think I've seen a single street without it. From an outside perspective, it has been a very interesting time to be here."