Ball in the Fall: A quick recap of Trinity's fall teams
Trinity sports have dominated all fall season. Take a look at a recap of each team's season so far and how they plan on staying hot for the remainder of the year.
Cross-Country
Both men's and women's cross-country have been competitive this season. In fact, the women's cross-country team is now ranked No. 10 in the nation for the first time in several years, as well as No. 1 in the South/Southeast region rankings. The team is currently focused on their SCAC championship race this Saturday, with their regionals meet coming up soon after that. Two of the team's biggest races have been the Chile Pepper Festival and the pre-nationals meet, which was held in Elsah, Illinois.
"The course was pretty difficult and hilly, but it was a real cross-country course, with altering elevations, plenty of twists and turns, and a final 100-meter downhill stretch to the finish line," said Emma MacEachern, a senior from Temple.
The women's team placed sixth and defeated their rival Emory University. The men finished 23rd behind a stellar performance from Michael Erickson, who earned SCAC Runner of the Week honors.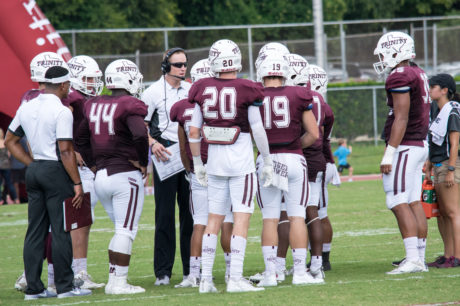 Football
Tiger football has concentrated on adjusting to their new conference this season, posting a 5-2 overall record in a 4-1 record in Southern Athletic Association (SAA) play. Huge overtime wins have become a regular part of the Tiger's routine, with thrilling wins over Chapman University and Rhodes College becoming pivotal points of the season.
"I feel that we have played well, but we expect more. We have proven to some people outside of our circle that we are better than we thought," said Brady Blanton, junior offensive lineman.
The Tigers have two more home games, including this Saturday at 1 p.m. against Hendrix College.
"We are focusing on one game at a time, plain and simple. Playoffs is not something we talk about," Blanton said.
Golf
The women's golf team has played in three tournaments this fall. The team has been extremely successful, placing first, second and third in each tournament. The women placed first in their last tournament, the Alamo City Classic. During the tournament, the team held a fundraiser for victims of Hurricane Harvey.
"We ended up raising $5,214. As a member of the team, I was incredibly proud of our dedication and eagerness," said senior Shelby DeVore. The men's team has also competed in three tournaments, most recently placing third at the Alamo City Classic.
The Tigers were led by sophomore Peyton Bartee, who tallied in with a two-day total of 151. Both teams will resume play in the spring, but as of now, they are training and practicing as a team during the offseason.
Men's Soccer
The No. 2-ranked men's soccer team has stunned opponents all season long, posting a record of 16-1 overall and 12-1 in conference play. The men have swept SCAC teams all season long, and several Tigers have also received multiple SCAC player of the week honors. Christian Sakshaug and Kellen Reid are two of the latest award winners. First-year Jacob Hallenberger has also received two honors. The Tigers have clinched a spot in the SCAC championship which will be held in Irving, beginning on Friday, Nov. 3.
"We are hoping to stay focused and hungry for the remainder of the season. Complacency is really easy to slip into and that is something that we are all making sure does not happen," Hallenberger said.
Swimming and Diving
The swimming and diving team officially kicked off their season on Saturday, Oct. 14, with a diving-only match in Granville, Ohio. The divers posted strong performances, with first-year Anthony Liva taking first place for the men and senior Christine Peterson taking runner-up for the women. The men's and women's swim teams kicked off on Friday, Oct. 20, with wins from both teams over Centenary College.
"We had a lot of explosive swims, and we can carry this momentum into our future meets," said senior David Doyal.
The next day, Saturday, Oct. 21, the swimming and diving teams went on to defeat the men and women from Colorado College and McMurry University. The swimming and diving teams look to continue their streak this Friday, as they take on the University of the Incarnate Word starting at 3:30 p.m.
Women's Soccer
The No. 11-ranked women's soccer team has completely ruled the Southern Collegiate Athletic Conference (SCAC), holding a 15-1 record overall and an 11-0 record in conference play. All season, the Tigers have posted up incredibly high scores, winning games 13-0 and 10-0, which proves their complete dominance.
"I feel as though we are taking care of business, and our record is definitely showing that," said Halleanne Dure, junior forward. The Tigers are going to enter the SCAC tournament as the No. 1 seed, and the tournament will be held in Shreveport, Louisiana, beginning on Friday, Nov. 3. Game times are to be announced.
"We are going to continue to take advantage of the opportunities we have because as we get to the NCAA playoffs those opportunities lessen," Dure said.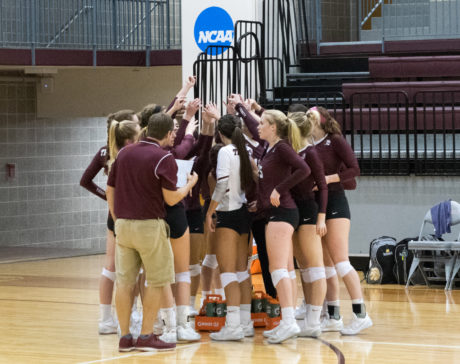 Volleyball
No. 5-ranked Tiger volleyball capped off their SCAC play this week with two wins over Austin College and University of Texas at Dallas. The Tigers finished conference play at 11-3, securing their spot in the SCAC tournament. Notable performances by Maggi Linker, Kirby Smith, Sarah Mullens and Katrina Lieberman helped the team secure their last two conference wins.
The Tigers have faced top-ranked opponents all season long, as a few other SCAC teams are also nationally ranked.
Despite the competition, the Tigers have dominated with huge wins over Southwestern University, Cal Lutheran University and University of Wisconsin Whitewater. The Tigers will play their last home games of the regular season this Friday, Oct. 27, at 6 p.m., and Saturday, Oct. 28, at 4 p.m.
Leave a Comment