Dallas music critic warns of art criticism's bleak future
Music critic Scott Cantrell visited the Ruth Taylor Recital Hall earlier this month to deliver his lecture, "The State of Arts Criticism in America," to an audience of about 50. In the Oct. 10 event, Cantrell spoke of how his career took off and how similar opportunities are not available to prospective critics today.
Cantrell wrote criticism of local symphonies and operas for the Dallas Morning News for 16 years before turning to freelance writing in 2016. During his career, Cantrell accompanied the Dallas Symphony on three European tours and chronicled the ups and downs of the Dallas-Fort Worth classical music scene.
"About 25 years ago, I counted about 60 full-time music critics at American newspapers. I think the figure now may be 10, and of those, they also may write about theater or art," Cantrell said.
At the lecture, Cantrell spoke of his career as an art critic and the struggle he faced in the underappreciated genre.
"I believe there will always be needs for art journalism and criticism. Although right now, we haven't figured out the economic models to make it pliable except as a hobby," Cantrell said.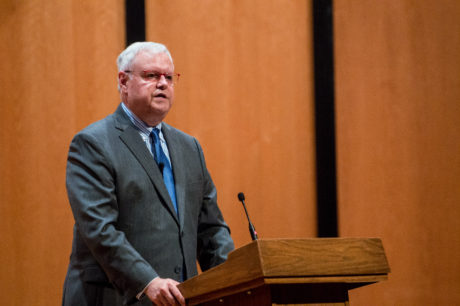 Cantrell also spoke of the value of a liberal arts education.
"I think the more perspective you have on the arts and how they relate is helpful, and I find sometimes that literary comparisons or visual arts comparisons will come up as I write, so I was very grateful to have had that experience at a liberal arts undergrad," Cantrell said.
Students in the music department's course Nights of the Symphony, taught by Carl Leafstedt, professor of music history, were able to talk to Cantrell during their class. Leafstedt spoke of the motivation for bringing Cantrell to campus.
"Cantrell's visit to campus reminded me how crucial good arts reporting can be, and how much it is missed once it's gone. There are few of his type in existence anymore at large city papers in North America. Without them, a record of the city's artistic life will always be incomplete," Leafstedt said. "It's hard to imagine life without serious, thoughtful criticism in the large daily metropolitan newspapers. I'm old enough to remember what it used to be like. Now that world is largely gone. It's sad."
"I found that, being an English major, it was interesting to hear his take on the industry of journalism and how it is dying and extremely competitive," said Kacie Pollard, a sophomore student in the course. "I found Cantrell to be a bit dry, but his take on the journalism industry and talking about his relationships with who he was criticizing was really interesting."
Ethan Jones, a music major in Leafstedt's class, also attended Cantrell's lecture.
"I found this lecture to be extremely informative and relevant to my future, as I hope to have a career in arts business sometime in the near future. This lecture helped me gain information on the music world and the importance of music criticism in this world," Jones wrote in an email interview. "After listening to Scott Cantrell speak about the importance of music criticism, I realized that even though critics write things that are sometimes hard to hear, they are ultimately trying to benefit the performers by giving them constructive criticism and tips to make future performances even more exciting to listen to."
Jones also wrote about what he enjoyed most about the lectures.
"I found most interesting his stories of when people come to him offended by his reviews. He explained that sometimes he will write a review that criticized the interpretation of a piece such as a symphony or concerto and a conductor will contact him and tell him that they did not appreciate his words. On the other hand, sometimes the opposite happens and a musician will call him and tell him how much his words were appreciated and that he was right on the interpretation of the performance," Jones wrote.
Cantrell provided students advice if they are pursuing careers in writing.
"Don't expect a career. The kind of career I've had won't happen again. But, make your writing vivid, and believe in it," Cantrell said. "And don't be afraid to find a tough, truthful editor."
Cantrell ended his lecture by encouraging the audience to participate and to support local journalism.
"This is my charge to you. Subscribe to the newspaper, or two or three. Consider it your investment in American democracy," Cantrell said.
Leave a Comment