PRIDE hosts San Antonio activists
Two local political activists were on campus Oct. 10 and 11 to speak as part of Trinity University PRIDE's speaker series, "Taking PRIDE: Community Activists and Outreach."
Megan Smith, an entrepreneur, political consultant and Trinity alumna, gave the first lecture. She spoke about her experiences being openly gay in the workplace, as well as how she has used her management skills in collaboration with local progressive political campaigns and nonprofits.
Emmett Shelling, president of the San Antonio Gender Association and regional director of the Transgender Education Network of Texas, focused his talk on unity within the LGBTQ+ community, specifically concerning those who identify as nonbinary or genderqueer. He also discussed the current political situation in Texas concerning the results of the most recent legislative session, during which laws were passed that restrict the rights of LGBTQ+ people to use public bathrooms and adopt children.
The talks were attended chiefly by members of PRIDE, a group on campus that provides community and education for LGBTQIA+ students and their allies. Each lecture had approximately 25 students present.
Andy Acevedo, president of PRIDE, wrote in an email interview about the importance of hosting these speakers.
"Both [Smith] and [Shelling] are seasoned political activists. They brought their personal experiences with them and spoke to us about being successful activists and community gatherers," Acevedo wrote. "The hope is that we can build upon their experiences to prepare ourselves to be better activists."
Chiara Pride, sophomore anthropology and political science double major and PRIDE's activism and outreach chair, spoke of how these speakers can be a source of inspiration and encouragement for students to become involved.
"Myself, and the rest of the leadership of PRIDE, hoped that these talks would educate students on how easy it is to become involved in a diverse range of activities that support the LGBTQIA+ community," Pride said. "People love to talk about the "˜Trinity Bubble' as a quirky aspect of private school culture, and while there are certainly benefits to our focused environment, for communities who are directly impacted by the actions of our civil and political state, community involvement is crucial to our health and happiness."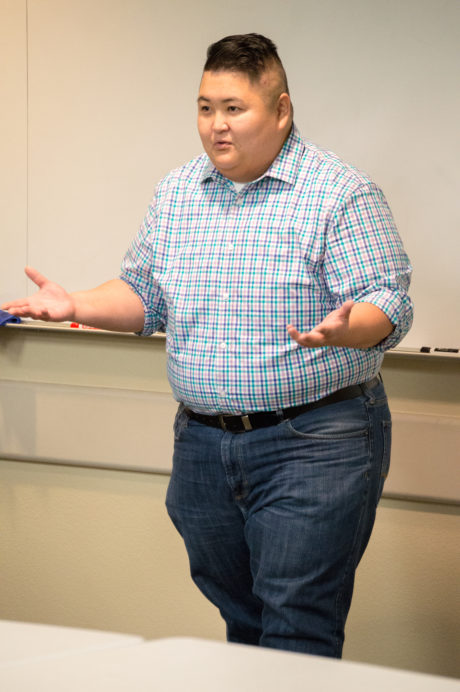 Acevedo also wrote about the personal value she gained from listening to Smith and Shelling.
"[Shelling] brought a lot of anti-LGBTQ bills to my attention and activist organizations I was not aware of, which is a valuable network-building tool," Acevedo wrote. "[Smith] spoke a lot about using data to engage with audiences and to better reach people to participate in your cause or organization. It was very interesting for me as an organization leader, activist and a marketing-minded person because I am always trying to figure out ways to reach more people to participate in events and movements."
Pride provided her view on the importance of both speakers' messages.
"[Smith] impressed upon PRIDE members the importance of taking every opportunity available and to leverage their privilege as Trinity students," Pride said. "[Shelling] discussed a variety of current political and social concerns that LGBTQIA+ individuals face and how to discuss that honestly and comprehensively in local circles. PRIDE members learned the value of being socially and politically active around LGBTQIA+ rights and the dangers of ignoring the legal state of affairs."
Will Farner, senior physics major and member of PRIDE, gave his perspective on the speakers as an LGBTQ+ ally.
"It was interesting to hear both of them talk about navigating the workplace as an out LGBT person. As an ally, I need to hear that perspective so that I can help create an accepting environment wherever I am," Farner said.
Farner found Shelling's message more meaningful due to his emphasis on intersectionality.
"[Shelling's] message spoke more to me because he talked about the importance of intersectionality in activism," Farner said. "As an ally, understanding how different kinds of privilege intersect in each person's experience is something that I strive to be aware of, even as it is something that I struggle with, so his focus on it resonated with me."
Farner also encouraged Trinity students outside of PRIDE to attend events hosted by the organization.
"I think it's important for students to attend these events for two reasons. Firstly, high attendance shows support for the club and helps motivate speakers to come. Secondly, everyone has room to learn and grow, and hearing from a diverse range of perspectives is a great way to do that," Farner said.
Acevedo also advocated for more Trinity students to attend these types of events.
"For Trinity students this should be relevant regardless of their affiliation with the LGBTQ community because we should try to be actively involved members of society who are aware of what our government is up to and because there are bills constantly being introduced that affect the lives of everyone," Acevedo wrote.
Pride also encouraged the Trinity community to look out for future PRIDE speaking events.
"I personally would love to see more events of this nature, but the interests of our members and allies come first, so if you are at all curious about making the world a more active and accepting place, please attend," Pride said.
The "Taking PRIDE" lecture series will conclude Wednesday, Nov. 1, with a panel of board members from the San Antonio chapter of PFLAG, a national LGBTQ and allied support group.
Leave a Comment