Dancing, acrobatics, leaps through the air and more: "Crystal" is the latest production by renowned Canadian entertainment company Cirque du Soleil, and it's different from any circus performance you've seen before. "Crystal" is Cirque du Soleil's 42nd original show since 1984, and the first of its kind to fuse ice skating and circus acts.
"The inspiration was actually ice as a component of speed, fluidity and reflexivity, and we wanted to blur skating skills with acrobatics," said Cirque du Soleil's publicist Julie Desmarais.
I went into the Oct. 19 performance with high expectations. I was not disappointed. The special effects were beautiful, and the ice skating added a graceful element to the performance that made it feel like a ballet. Additionally, the story of a young woman gaining power and independence in the world resonated with me on a personal level.
"Crystal" is an "exhilarating tale of self-discovery," according to Cirque du Soleil's official website.
The eponymous main character skates across a frozen lake, breaks through the ice "" the show was humorously advertised as a "breakthrough ice experience" "" and submerges into a dreamscape where she can observe and control every aspect of life. In the underwater world, Crystal goes from schoolyards to business cubicles and follows her dream of writing. The first act shows Crystal transforming from an ordinary girl to a woman with increasing knowledge and power in the world. In the second act, Crystal adjusts to her newfound success and considers romance for the first time. "Who can I share my now with?" she asks. Jerà´me Sordilton, the artist who plays Crystal's love interest, soon flies in on red straps attached to a trapeze; he and Crystal engage in aerial ballet to the tune of Beyonce's "Halo."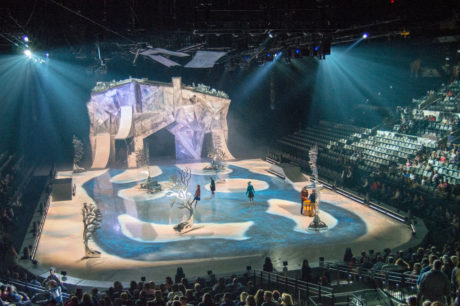 In one of my favorite musical numbers, we see a room open on the staircase where a version of Crystal is shown writing away on a desk, while on the stage another Crystal subdues gray-robed monsters "" played by a group of acrobats "" with balls of paper. While swirling words are projected on the staircase and adjoining platform, the audience hears Crystal's voice over the music. The narrative felt reminiscent of "Alice in Wonderland," as well as "Harry Potter" and any other story about exploring a new world and discovering who you are. The ice elements also reminded me of Disney's "Frozen." But beyond the references to other media, Crystal was relatable to me as a first-year Trinity student trying to find my place in the world. There are many performers who play the part of Crystal in different segments of the show, and this gives  her character a universal quality.
I also enjoyed the swirling troupe of dancers who trailed Crystal as she embarks upon her adventure. They first appear as gray-robed wraiths who swarm and threaten her in a "Little Red Riding Hood"-like sequence when she first breaks through the ice, but later on she learns to control them through writing. Later the group reappeared as school children, and then as businessmen in the second act. The first act ended with Crystal swinging on a trapeze to the tune of Sia's "Chandelier," and this time the Greek chorus-like group wore yellow geometric hats and giant wigs that evoked Sia's offbeat aesthetic.
Every element of the show felt very synchronized and planned, which is surprising because Cirque du Soleil is composed of 1,300 performing artists from 50 different countries. More than 180 million spectators flock to see their shows in more than 450 cities on 6 continents, and 19 shows are presented simultaneously worldwide. With such a large and diverse group of artists, performances like "Crystal" are impressive.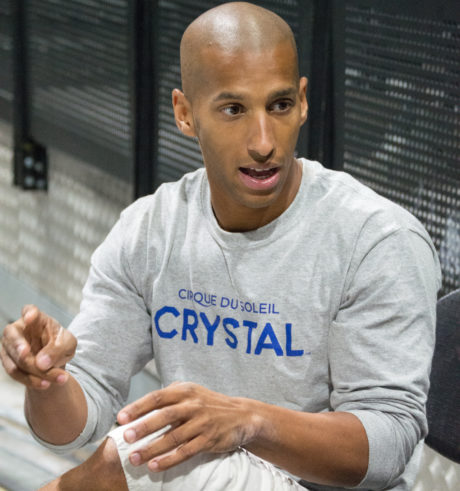 Sordilton discussed the amount of teamwork and trust that went into "Crystal."
"Especially in this show … everything is about friends being on stage together and working together. "¦ I would suggest, if Cirque du Soleil is your dream, just work, work"¦ it is difficult, circus is difficult, sport is difficult, but I think if you want to achieve a goal, you just have to really believe," Sordilton said.
"What I really like in "˜Crystal' is the fact that you can find everything. You can have fun, you can have emotion, you can have, like, at some point you're scared. … There is acrobatics, there is theatre … I think you can find a bit of everything in this show."
"Crystal" is a personal narrative of self-discovery, but it's also a lot of fun.