National Chess Master comes to Trinity
One chess master. Eleven games. All at once. A circle of tables and chess boards was arranged in the Fiesta Room last Saturday for a simultaneous chess match. The Trinity Chess Club hosted Jesse Lozano, a National Chess Master and San Antonio local, who talked about he became one of the best players in the nation and spoke of the game's importance.
Lozano began with a lesson on chess strategy and tactics to help improve the skills of the participants. Once Lozano finished his lesson, the tournament began: a simultaneous chess match where one player competes against 11 chess players, moving from one chessboard to the next, at the same time. Once Lozano completed his move against one player, he moved on to the next game.
Eleanor Gilbert, junior international affairs major, participated in the match even though she is not a member of Trinity's Chess Club. Gilbert gave her thoughts on the event.
"It's interesting for it to be a simultaneous match because we have time to lament our losses," Gilbert said.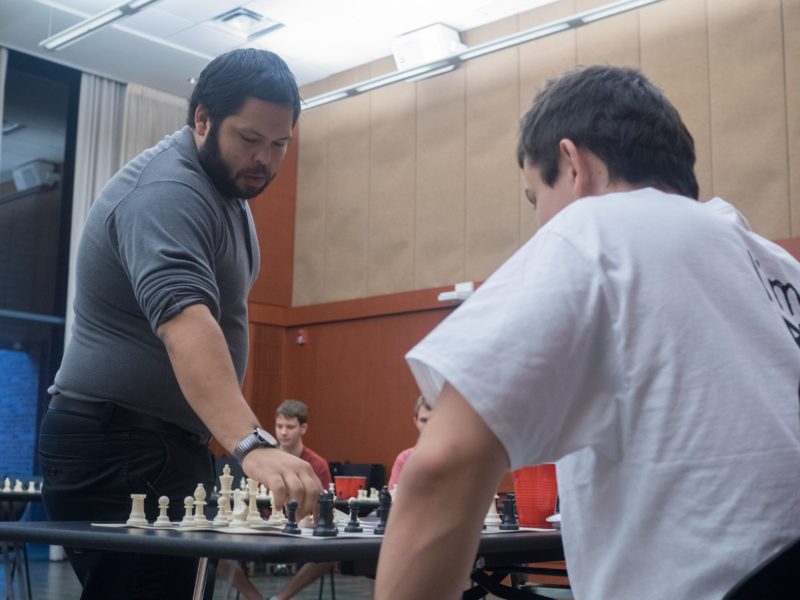 The whole match took about 20 minutes to complete, and Lozano emerged as the winner of each game. Attending events like this is not unusual for Lozano. He is used to giving chess lessons because he is a full-time chess coach through his company, Complete Chess. Complete Chess provides after-school programs, private chess lessons and chess tournaments to the local community.
"Our mission is to better the communities we serve by providing a complete chess education in a positive and nourishing environment," the company's mission statement reads.
Lozano believes that chess provides players with portable skills that can improve other areas of their lives.
"I love to go around and spread chess. It teaches skills "" looking ahead, critical thinking, problem solving," Lozano said.
Lozano hopes to expand his programs throughout the San Antonio area and the surrounding communities.
"One of my main reasons for teaching chess is to give students something to do after school. We have football, basketball, but it's important to have mental education," Lozano said.
Lozano has even hired students from Trinity to work for Complete Chess, including Bob Le, a senior computer science major and the president and founder of the Trinity Chess Club. Le and the other officers organized the event with Lozano to help promote the club to the student body.
Camden Lemond, sophomore English major and vice president of the club, helped organize the event.
"We had a pretty good turnout. It started off kinda slow, but it all came together, and we're pretty happy about that," Lemond said.
Lemond hopes that through these events, the chess club will grow. The club hopes to expand into the San Antonio area and play in local tournaments.
Overall, the chess club is happy with the event and hopes to continue hosting more events and tournaments. The public relations director, Devon Patel, first-year and intended neuroscience major, hopes the event inspires both potential and current club members.
"For them to play with someone of that caliber is not something you can do every single time. … We're hoping [people are] going to be able to come to the meetings, hopefully improve on their chess skills and who knows, maybe they'll be the next national chess master," Patel said.
To find out more about the chess club, like them on Facebook or attend meetings in Marrs McLean 130 every Friday at 4:30 p.m.
View Comments (1)