A Year in Sports
In upsets, in walk offs, in protests, in saves of goalies, in touchdowns, in PKs, in rebounds, in calls, in five hundred twenty-five thousand six hundred minutes — How do you measure a year playing ball?
At home in our own gyms and fields of Trinity University, Trinity has seen some great milestones this year.
Trinity's women's basketball made a historic postseason run, making it as far as the NCAA Sectionals.
Trinity legend John Ryan retired from his position as head coach of the Trinity swim team. Ryan, who has coached Trinity swimming since the team began in 1992, continues to help out as an assistant coach after 26 years leading the squad.
Speaking of coaches, Trinity University volleyball coach Julie Jenkins gained her 300th conference victory, making her the coach with the most wins in the history of the Southern Collegiate Athletic Conference (SCAC) in any sport.
Also setting milestones was Trinity Women's soccer coach Dylan Harrison, who reached his 100th career win this season. Harrison, an alum of the Tigers soccer program was also awarded the SCAC women's soccer coach of the year.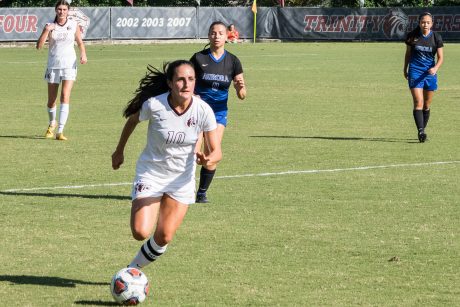 The women's cross-country team placed 15th at nationals. Head coach Emily Daum, a Trinity alum, was chosen as Coach of the Year by the organization with a name longer than the races her athletes run: The United States Track & Field and Cross Country Coaches Association (USTFCCCA).
Trinity football moved conferences from the SCAC (Southern Collegiate Athletic Conference) to the SAA (Southern Athletic Association). The new conference was harder than expected and the Tigers ended their first season within the SAA with a 6-4 record.
2017 All-American Tigers
Baseball –  Scott Walters
Women's Basketball – Monica Holguin (2nd consecutive year)
Cross Country – Molly McCullough
Women's Track and Field –  Ayriel Coleman
Men's Track and Field – Cody Hall
Women's Tennis – Liza Southwick (3rd consecutive year)
Men's Tennis  – Matt Tyer (2nd consecutive year) and Wilson Lambeth
Women's Soccer – Julia Camp and Julia Kelly
Men's Soccer – Austin Michaelis (2nd consecutive year) and Guy Harris
Swimming – Jacob Hurrell-Zitelman and Lindsay Hagmann (2nd consecutive year)
Volleyball – Kirby Smith
Note: The All-American honors for football have not yet been selected. The Trinitonian will update this article online when this is released.
Around the world saw an incredible year for sports as well, with many incredible firsts being performed and many records broken.
On Jan. 29, American Serena Williams won her seventh Australian Open, defeating her sister Venus. With her 23rd Grand Slam, Serena, who was later revealed to be pregnant during the tournament, broke the record for Grand Slams.
Feb. 5 saw the New England Patriots make their record-setting seventh Super Bowl appearance at Super Bowl LI in Houston, Texas. During Lady Gaga's halftime show, the Patriots were down 21-3 to the Atlanta Falcons, but New England used the second half to drive the game into overtime, winning their fifth Super Bowl. The 51st Super Bowl saw over 30 Super Bowl records matched or broken, including Tom Brady's record fourth Super Bowl MVP title.
On March 22, the United States defeated the American territory of Puerto Rico in a 6-0 championship game to win America's first World Baseball Classic. After throwing six no-hit innings, American Marcus Stroman was named MVP.
On March 31, the University of Connecticut women's basketball team's astonishing 111 win streak was broken in the NCAA Women's basketball tournament. UConn Huskies fell in a 66-64 overtime game to Mississippi State University, who the Huskies had beaten in 2016's Sweet 16 by 60 points. The eventual champions were the University of South Carolina Gamecocks.
On April 17, 70-year-old Kathrine Switzer ran the Boston Marathon. Her bib number, 261 was the same number she wore when she competed in the 1967 Boston Marathon, 5 years before women were allowed to run. After the race, Switzer's bib number was retired from future Boston Marathons to honor the trailblazer, who was at one point the third fastest American woman. The 121st Boston Marathon was won by Kenyan police officer Edna Kiplagat in her first Boston Marathon appearance, with a 2 hour, 21 minute, 52 second time. The men's race was won by fellow Kenyan Geoffrey Kirui, who passed American Galen Rupp to win with a time of 2 hours, 9 minutes, and 37 seconds. Just a reminder, they are running 26.2 miles.
On Nov. 1, the Houston Astros defeated the Los Angeles Dodgers in Game 7 to win their first World Series in franchise history. The Series broke records for home runs and other stuff. In more words, I literally love the Astros.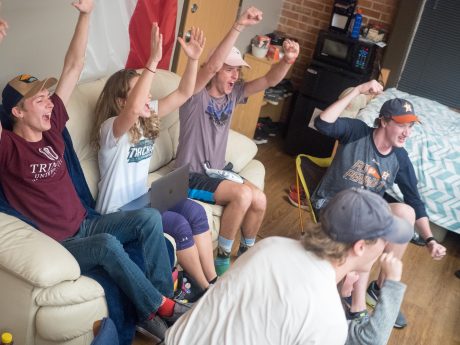 Sports, at the end of the day, or at the end of the inning, reflect the world at large.
Protests within the NFL have also shaken the sports world. Colin Kaepernick, who is currently unable to get a position as quarterback on any team, is now not the only player taking a knee before games. Plenty of players across the NFL are kneeling in protest of police brutality and inequality for African Americans and in response to comments made by President Donald Trump. The racial unrest felt elsewhere in the country was reflected in the world of sports.
2017 saw thousands of women finally finding the courage to share stories of sexual assault and harassment. Among those women was U.S. Olympian Mckayla Maroney, who alleged that as a 13-year-old athlete she was repeatedly molested by Larry Nassar, a former doctor for USA Gymnastics. Maroney's teammate Aly Raisman was among 125 other victims with accusations against Nassar. On Nov. 22, Nassar pleaded guilty to seven counts and was charged with 22 counts of first-degree criminal sexual assault, several of which were against victims younger than 13.  
It was a year for sports. Like all years, there were moments which were full of joy and accomplishments. There were records broken and feats accomplished. There were other moments that challenged and confronted you to face your own shortcomings and to have difficult conversations. This year you have felt anger. This year you've felt joy. There have been moments that shocked and disgusted you, moments that gave you hope. Some of these moments were felt through sports. Whether your anger was directed at Kevin Durant or at President Trump or at both, and whether your joy came from the Houston Astros victory or from a moment in your own life — or both, those feelings are yours to feel. Happy 2017. It's been a year.  
Leave a Comment