Women's Cross-Country captures 15th place at DIII Nationals
In a fight against hundreds of runners from top-ranked schools during a bone-chilling Midwestern storm, Trinity women's cross-country prevailed, earning a ranking of No. 15 in the nation among Division III schools. In addition to the team's success, a few individuals left their mark on the freezing course in Elsah, Illinois. Junior Molly McCullough placed in the top 40 runners and won an All-American title, and sophomore Laura Taylor broke the school record, set by McCullough in 2016, of youngest runner to finish so well at the national competition. Taylor placed 57th out of 279 runners.
This was the first time the women's team competed at the Division III National Championships since 2013, so this fresh team was not sure what to expect from the competition. Despite their inexperience competing at the national level, head coach Emily Daum found relief in the women's confidence.
"I was surprised that when they each came in for our individual meetings the night before the race, all of the ladies were much less stressed than I would have expected them to be. It really helped me that they were all super level-headed and had a game plan," Daum said.
The Cross Country National Championships are unlike any race Trinity typically competes in. For those unfamiliar with the sport, cross-country isn't exactly known for being a huge spectator sport. The races that Trinity competes in are often early on Saturday mornings, and there are only two that actually take place in San Antonio. Therefore, it's rare to see a supporter at a Trinity cross-country meet who isn't a parent, a significant other or a dedicated friend of someone on the team. It's safe to say that you won't find a crowd of more than 10–20 people at a typical cross-country meet. Nationals is the extreme opposite of that. There are easily hundreds, maybe up to a thousand spectators who line the entire six to eight kilometer course and are screaming and cheering the entire time. The teams from Midwestern schools famous for their cross-country programs especially attract large groups of hardcore, intense fans.
"I knew going into the race that there would be some spectators who were dressed crazy or even minimally, but I never would have expected that level of energy and noise. The entire race was like running through a football game. People were yelling and chanting and screaming on all sides of you. It was crazy and so fun," said Haley McFadden, senior cross-country runner.
The extreme conditions brought an extra challenge to the women. The temperature was in the low 40s all morning, but with the on-and-off rain storms and 25 mph winds, the air felt more like it was in the 30s. While most fans were covered in head-to-toe layers, the runners were stuck with their summer-like uniforms that consisted of tank tops and shorts. Our Texas team felt the weather conditions definitely didn't help them, but it ultimately didn't keep them from achieving big.
For Daum, the team's success was extra special as it was the first time she brought a full team to the national competition. Especially witnessing runners like McCullough and Taylor make Trinity history was an emotional moment for her.
"That was one of [McCullough's] big goals for this year. At our individual meeting at the beginning of the season, she told me, 'Coach, I want to be All-American.' So it was really special to watch her work so hard for that this year and to be the one who told her that she had gotten a spot in the top 40," Daum said.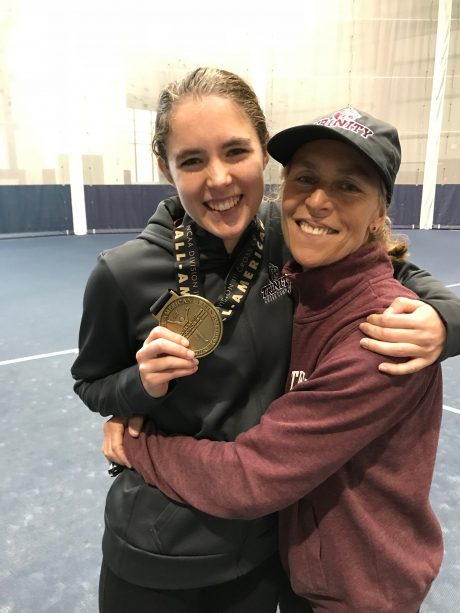 The Tigers originally were thought to score 16th place as a team, but the NCAA recalculated the score after reviewing tapes of each finish. They found that senior Emma McEachern 'out-leaned' the runner ahead of her, meaning that her chest crossed the finish line before the other girl. This one point allowed the Tigers to move up from 16th to 15th place.
Despite this success, the third greatest one in Trinity cross-country history, the women always remain humble.
"We all knew that it was cold and windy but no one actually really complained about having to run, because we all knew how lucky we were to be there," McFadden said.
In competitions like this where the team travels together, the women feel like their bond grows.
"Traveling as a team is very entertaining. I like being together before we compete — it's a good way to get mentally ready to race. This team means the world to me. The people on this team are my role models and best friends. They've shown me what pouring your heart and soul into something looks like," said Jordan Juran, first-year runner.
While the team will grow through young runners like Juran, the coaches will face a tough loss when three key senior runners graduate next spring.
"[Watching the seniors graduate] this year is gonna be especially hard because their freshmen year was the first year I started as head coach. It's been really special to see all of them grow, not just as runners but from doe-eyed freshmen to strong, very determined seniors. Obviously they all have huge running contributions, but it's going to be especially hard without their personalities next year," Daum said.
The season has now come to an end, and the runners are taking their two weeks off from running, the only time all fall that they spend resting. Be sure to keep an eye out for them next spring as track season kicks into gear.
View Comments (2)